Alfie the Apostrophe

written by Moira Rose Donohue
illustrated by JoAnn Adinolfi
It's time for tryouts for the punctuation talent show, and little Alfie the Apostrophe doesn't think he can beat the "more exciting" marks with his simple magic show (making letters disappear).


On the day of the auditions, the exclamation points cheer, the question marks tell jokes, and the periods and dashes do a Morse code routine, but in the end, it's Alfie that steals the show!
School Library Journal gave this book a positive review, but made a valid point on using this book for teaching contractions: "Children may miss some of the laughs, and, indeed, the point of the grammar lesson..." We agree. To remedy this, teachers should stop at logical points and ask questions to help students 'get it'. (ie: "Why are exclamation points cheerleaders? Why not the question marks?")
Donohue's choices for punctuation mark character traits are quite clever and do make sense. They can help students better understand the roles each punctuation mark makes, but students may need a little help seeing the connections.
Reading Level Alfie the Apostrophe

Interest Level: Gr. 1-3                 DRA Level: 30
Guided Reading: N                    Lexile Measure: AD540L
See Inside Alfie the Apostrophe

Below are sample spreads from inside the book. It's a fairly wordy story, but not too much to prevent our recommendation. In the first spread, little Alfie is worried about his chances in the upcoming punctuation talent show. His parents try to reassure him that his contractions and possessives magic show is going to be a hit, but he is still worried. 

In the second sample spread, Alfie follows his father's advice and looks up the word contraction to read about its 'noble tradition'. He finds out that contraction "came from the Greek word meaning 'turning away.' As in 'turning away' letters to make contractions..."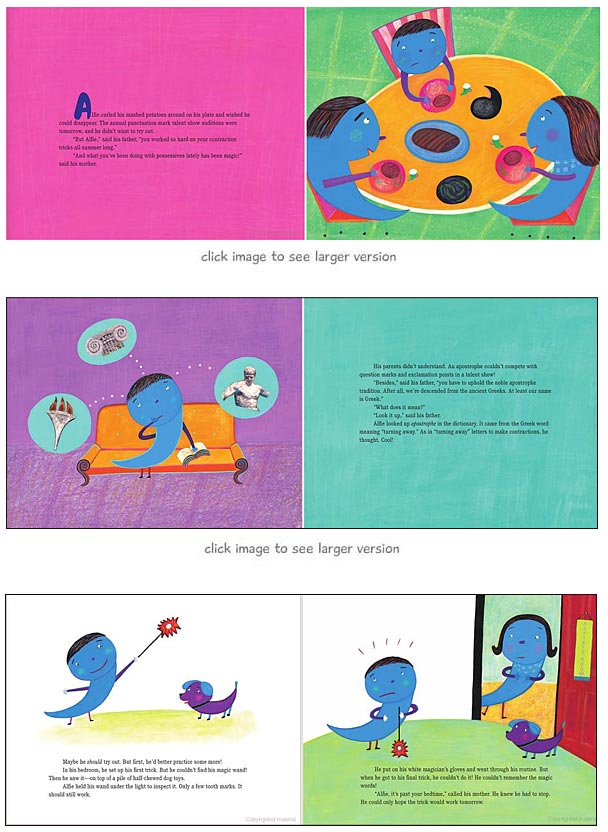 Where to now?
Now that you've seen this great book, what would you like to see now?  Please note that as an Amazon Associate, we earn from qualifying purchases.