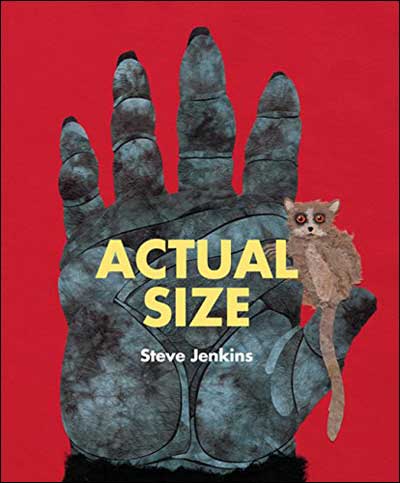 Actual Size by Steve Jenkins

Actual Size is an amazing children's book full of striking paper collages that depict 18 animals--or just a body part--in its "actual size". For example, a tiny dwarf gobi fish (only 1/3 inch big) is powerfully depicted right next to a huge atlas moth which has a 12" wingspan!  Even more powerfully, a double page spread covers just the eyeball of a 59 foot long giant squid!  "Jenkins' artwork is gorgeous (a gatefold of a frog in midleap is particularly memorable)... An unusual, unusually effective tool for connecting children to nature's astonishing variety."   Booklist, ALA, Starred Review
And if you like this book, be sure to check out Steve Jenkins' Prehistoric Actual Size, which follows the same premise but features prehistoric creatures.
Actual Size Reading Level:

Interest Level:  preschool - grade 4
DRA Level:  20
Guided Reading Level: L
Lexile Measure: 1080L
Awards won by this book:
* NCTE Orbis Pictus Non-Fiction Honor Book
* Int'l Reading Assoc Children's Choices 2005
* Booklist Editor's Choice Children's Book
* NY Public Library 100 Titles for Sharing
* ALA Top 10 Sci-Tech Books for Youth 2004
See Inside Actual Size:

Below are two spreads from inside this book. Remember--the premise of the book is that animals (or animal parts) are shown in actual size. Now imagine these spreads are book size (in this case, an inch high and 2 inches wide!)  When your students see the book version of the first spread, for instance, they will get a fascinating insight into how the animals really are!
These sample spreads will also give you an idea of the reading level of this book (listed above).  It's a bit high for kids in preschool, Kindergarten, and 1st grade so this book is best as a read aloud for those kids.  But the reading level is just right for the older age of the range--2nd to 4th graders.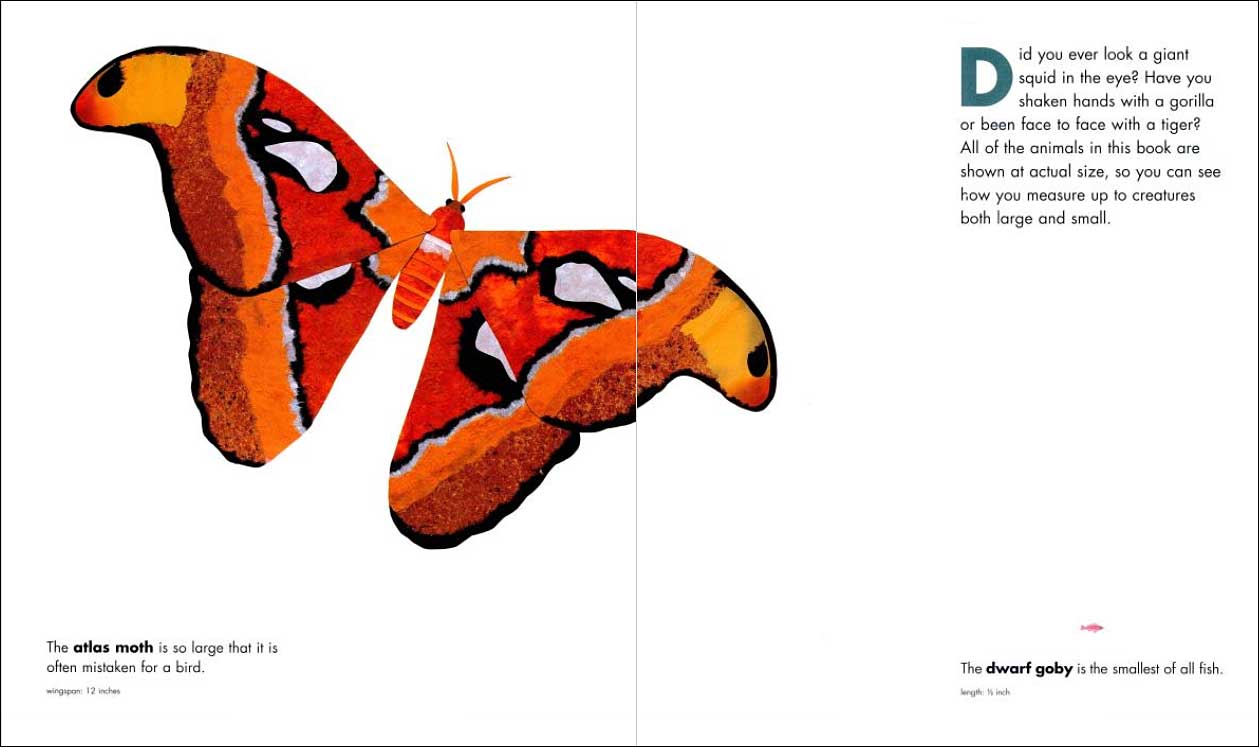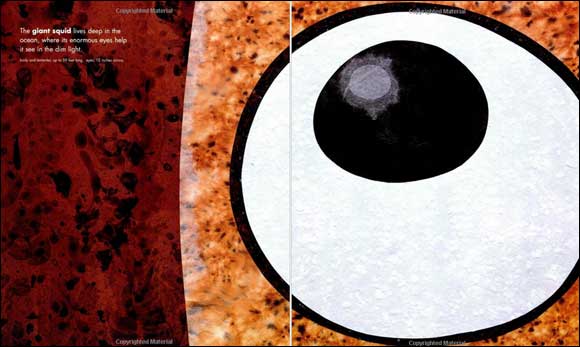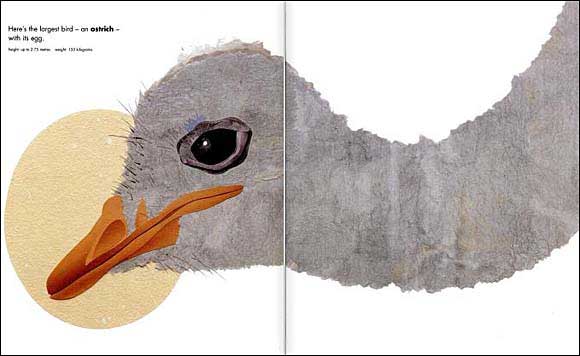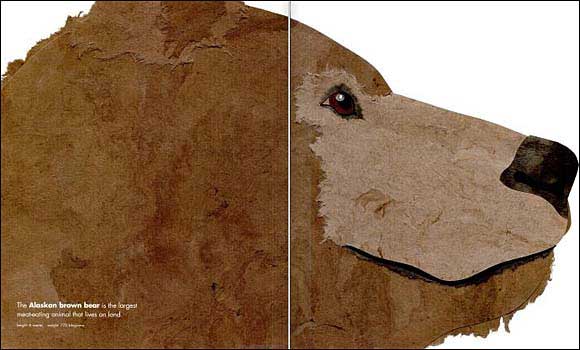 Actual Size
Lesson / Activity Idea
(1) Measuring Animals
This is a fun book to use when teaching students about relative size and measurements with different measurement devices. For this Actual Size lesson / activity, you need a standard ruler, a yardstick, a measuring tape, and an extra-lengthy measuring tape (ie: for the whale!)

Go through the book, page by page, but don't show the pictures at first.
First, ask kids to guess the "actual size" of the animal or animal part being presented (ie: elephant's foot). They can just use their hands or, for larger animals, items in the classroom (ie: "the length of the whiteboard.")
Write the actual measurement on the board
Working with the appropriate measurement device, figure out the actual measurement. (Pause for the inevitable 'ooooh' and 'aaaaaahs' from the kids.)

Show the picture from the book so they can see how HUGE an elephants foot is, how tiny a dwarf goby fish is, etc...

Your students will probably really enjoy this lesson / activity, and may even want to walk around the room measuring things after that. :)  And as a side note, the animals and specific facts that Jenkins selected for this book are really interesting!.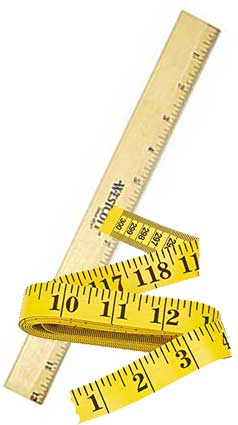 (2) If the weather is nice, try this fun activity that has kids measuring out "actual sizes" of animals using chalk on the playground:  Actual Size Measurement Lesson / Activity  (Teachers Pay Teachers, $)
(3) The author Steve Jenkins has created a teaching guide for his books, and this is one of the book with suggested lesson / activity ideas.  At right is a small picture of this FREE resource. 
To access the guide, click here:  Actual Size by Steve Jenkins lesson/activity ideas