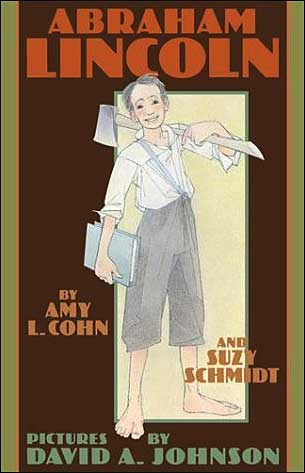 Abraham Lincoln
by Amy Cohn
illustrated by Suzy Schmidt

With a down-home, folksy flavor, this is an unusual biography of Abe Lincoln that is sure to become a perennial classic. This is Lincoln's story from his birth to his untimely death. Beginning with his humble start in a log cabin in Kentucky, the authors take us through his young life working on the family farm, learning to read and write on his own with only the crudest schooling, his early love of knowledge, and the sad times when he lost his mother.
This book delves into his adult life as a lawyer, a father, a husband, a politician, a military leader and a president - all the while exploring the many facets of his character - his kindness, his wisdom, his compassion, and his wonderful, quirky humor. Readers will relish this flavor-rich biography that portrays a favorite American hero with rare sensitivity.

Reading Levels
Interest Level:   Grade 2-5
DRA Level:  38
Lexile Measure:  660L
Grade Level Equivalent:   3.9
Guided Reading Level:  P
Reviews
"This picture-book biography of the Great Emancipator is a winner."  (School Library Journal)
"From their opening sentences, [the authors] effectively involve readers in this breezy picture-book biography...A balanced, artfully composed portrait."  (Publisher's Weekly)
      Sample interior pages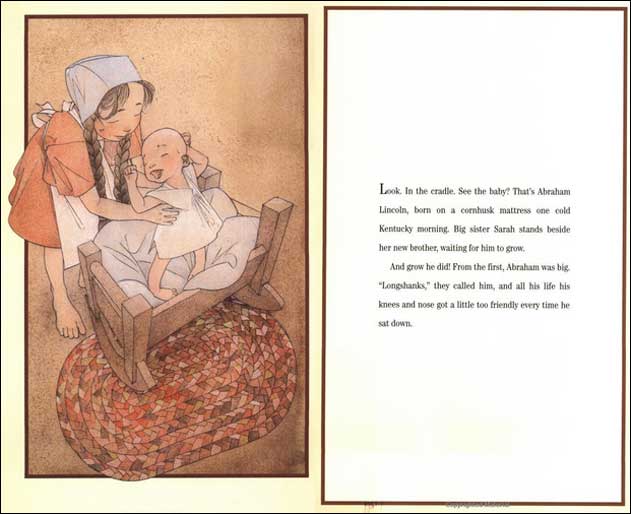 Looking for kids books on Abraham Lincoln?  Check out our

sale kids books on Lincoln & Washington
Just $2.75 each!  Check out our list of kids books about Abraham Lincoln and George Washington. We often have this fantastic book in our inventory.  If we don't currently have this exact book today, there are likely lots more good books to choose from about this particular topic. All at 50% off retail!
Where to now?
Now that you've seen this great book, what would you like to see now?  Please note that as an Amazon Associate, we earn from qualifying purchases.



return to list of Abraham Lincoln books or American History books or President's Day books