Abe Lincoln's Hat
(Step Into Reading)

Abe Lincoln's Hat
by Martha Brenner; illustrated by Donald Cook

This reader shares some fascinating anecdotes about Abraham Lincoln, one of our greatest presidents. Abe started out in life as an absent-minded frontier lawyer. How did he nudge his memory? He stuck letters, court notes, contracts, and even his checkbook in his trademark top hat. When he took off his hat, it was all there! Young readers will be utterly engaged with how Abe's humanity comes across in this accessible, easy-to-read book.  Written by Martha Brenner;  illustrated by Donald Cook.
We read each year to our classes, as an introduction to the man AND an introduction to the adorable Abe Lincoln's Hat activity that any K-2 teacher who surfs the teaching blogosphere has probably seen 50 times already. If you haven't, check it out!  In short, the book spends a few pages talking about how Lincoln used to store important papers inside his hat. The activity then has kids make an Abraham Lincoln face, and then write about what they would keep in their hat if they had one like his.
We are focusing on the hat portion, but the whole book, however, is worthy of a read. It's a good, kid-friendly read aloud about the life of Abraham Lincoln, and the reading level is just right for kids in second and third grade to read this book on their own as well. And it is the only "reader" we could find on Abraham Lincoln, so it's great for that purpose (and as an intro to the hat activity, above). Overall, the biographies in this series are pretty good. We put them out after teaching/doing a read aloud on the person being spotlighted. It builds early readers confidence to see us read about a famous person, then to be able to pick up a different book and be able to read about them as well. They feel like such "big kids"!
Reviews for this book:
"A far cry from the reverent tone of most children's books on Lincoln, this short, anecdotal biography actually humanizes him...The humor, lively lines, and soft, shaded colors of Cook's illustrations add to the book's appeal." (Booklist)


Below are sample pages from inside this book:

Abe Lincoln's Hat Reading Level:

Interest Level:  Kindergarten-Grade 3
DRA Level:  24
Lexile Measure: 330L
Grade Level Equivalent:  2.9
Guided Reading Level:  M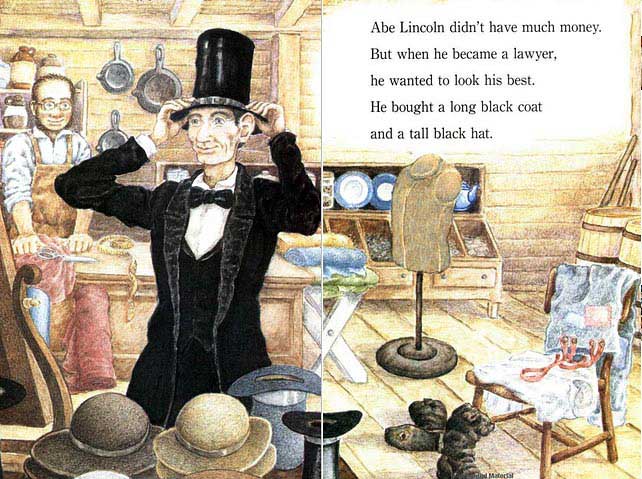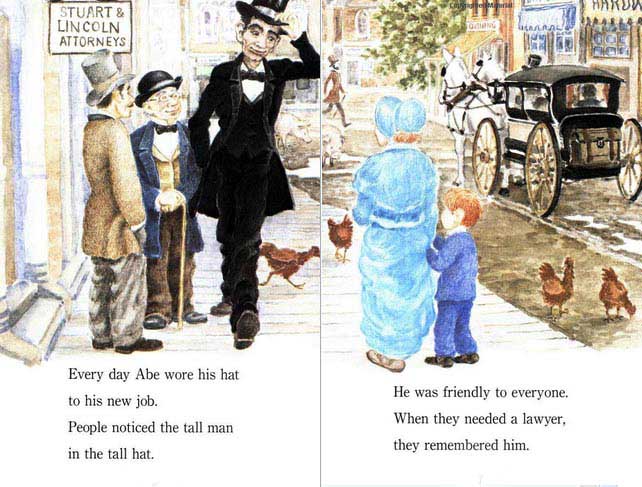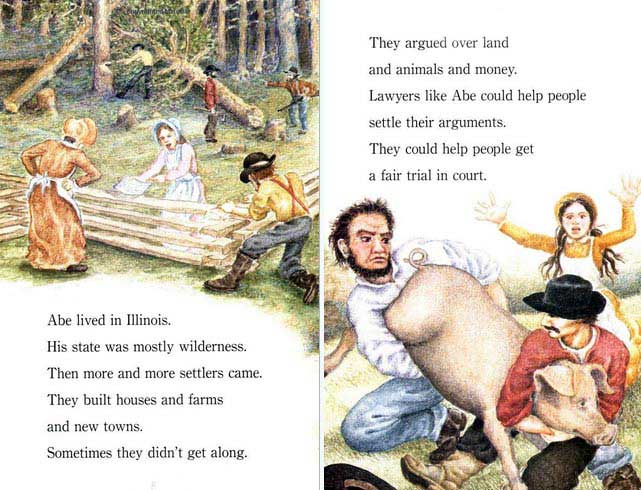 Abe Lincoln's Hat Lesson / Activity Idea:

Lesson / Activity Idea: We read this book to our classes around President's Day and then we have the kids make this adorable activity where kids make Abraham Lincoln's head and tall hat, and then inside they write what they would put in their hat if they wore a tall hat like Abe Lincoln did (because, as the book explains, Abe used to carry important papers in his hat).  We do this activity every year and the kids love it! 
To learn more about this activity, click here:  Abe Lincoln's Hat activity
Looking for kids books on Abraham Lincoln?  Check out our

sale books on Lincoln & Washington
Just $2.75 each!  Check out our list of kids books about Abraham Lincoln and George Washington. We often have this fantastic book in our inventory.  If we don't currently have this exact book today, there are likely lots more good books to choose from about this particular topic. All at 50% off retail!


return to list of   Abraham Lincoln books  or  American History books   or  President's Day books