ABC USA  by Martin Jarre

Kid-friendly American folk art meets ABC books.  This book truly is a beautifully illustrated alphabetic tribute to our great country. Two thumbs up! Jarrie's illustrations are in a charming, American folk art style. Some are whimsical and a bit silly while others are more educational in nature.
The premise of the book is quite simple, with each alphabet letter representing a different aspect of the United States, like:
- different historic events (like V is for Valley Forge)
- geographic locales (G is for Grand Canyon)
- cultural traits (R is for Rodeo)
Unlike other books on our list, this ABC book is more appropriate for upper elementary grades. We agree with School Library Journal's assessment that this title will be more useful for demonstrating American folk art or for teaching US Geography than for teaching young children the alphabet. (It still would work for that purpose as well, but it would not be our first choice for abecedaries for young ones.)
Publisher recommends for:      Preschool - 5th grade
Scholastic recommends:          Kindergarten  - 5th grade
Booklist recommends for:        Kindergarten  - 2nd grade
As you can see, there's some disagreement over who the audience is for this book.  And we can see why.  It's nearly wordless, so it's really the appropriateness of the content that is in question, not the reading level, for example "D is for Declaration of Independence."   Mommy, what's a Declaration of Independence? :)
Here are sample pages from inside this book.  As you can see, there's not much text. This book is a great classroom discussion starter!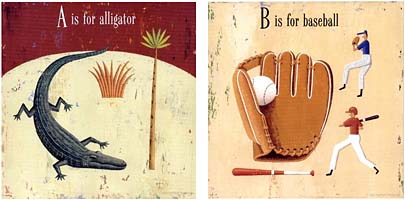 Lesson Idea
This would be a fun book to use when teaching about United States Geography.  It's a great jumping off point for discussions about the historic, geographic, and cultural diversity of America. Beyond just an ABC book, this would be a fun book to use when talking about US Geography!  Here's one fun related lesson/activity idea:

Read this book to your class--to give them inspiration and get their creativity flowing. Then divide students into groups and have them brainstorm additional (1) historical, (2) cultural, and (3) geographic words about the United States to create their own ABC books. (Have them talk quietly so that each group will come up with their own words.) Once they have a list, groups should divide the list up among themselves, create pages for their words, and once complete, staple them together to create ABC USA books of their own. The possibilities are seemingly endless, ie:
A could be for Alabama or Abraham Lincoln or Abolitionists or Appalachia...

B

could be for Buffalo Bill or Broadway or Boston Tea Party or Baseball...

C

could be for California or Cotton Gin or Columbus or Christmas...
Once the books are done, have the groups present them to the class and discuss their choices.  It will be fun to see the variety they come up with (although to help encourage that variety, you may want to give them quotas for the categories so that they don't do all states, all holidays, etc...)

Where to now?
Now that you've seen this great book, what would you like to see now?  Please note that as an Amazon Associate, we earn from qualifying purchases.