A Picnic in October
by Eve Bunting
A Picnic in October summary:
Each October, Tony and his family visit the Statue of Liberty for a picnic. Tony thinks this is silly -- it's too cold and windy, plus he just doesn't understand why his Italian-American grandparents love the Statue of Liberty so much. Then, Tony watches as a family of new Americans visit the statue, and he starts to understand exactly what this symbol of freedom means and how she can evoke feelings of joy and gratitude from immigrants of all ages. 
"Carpenter's colorful acrylics are realistic but soft edged, conveying in their slightly blurred edges the feeling of a chilly, blustery day in New York Harbor, seen through eyes moist with tears (brought on by the wind, the emotions, or both). Bunting warmly captures the lasting emotional impact that the first sighting of the statue can have on hopeful new arrivals... Excellent." (School Library Journal)
"Poignant...Bunting's patriotic story...never grows soppy." (Publishers Weekly)

A Picnic in October Reading Level

Interest Level:  Kindergarten - Grade 3 
DRA Level:  38
Lexile Measure:  310L
Grade Level Equivalent:   3.8
Guided Reading Level:  P
Read-Aloud vs. Individual Reading:
This book will need to be a read-aloud rather than for individual reading for the majority of the intended audience, as the reading level will be too high for the majority of them. Some third graders may be able to read this book on their own as the year moves on, but it will likely be too difficult for kids at the beginning of third grade and all kids younger than that.

See Inside A Picnic in October

Below are sample pages from inside this book.  We are working on getting less blurry versions.  Sorry about the quality!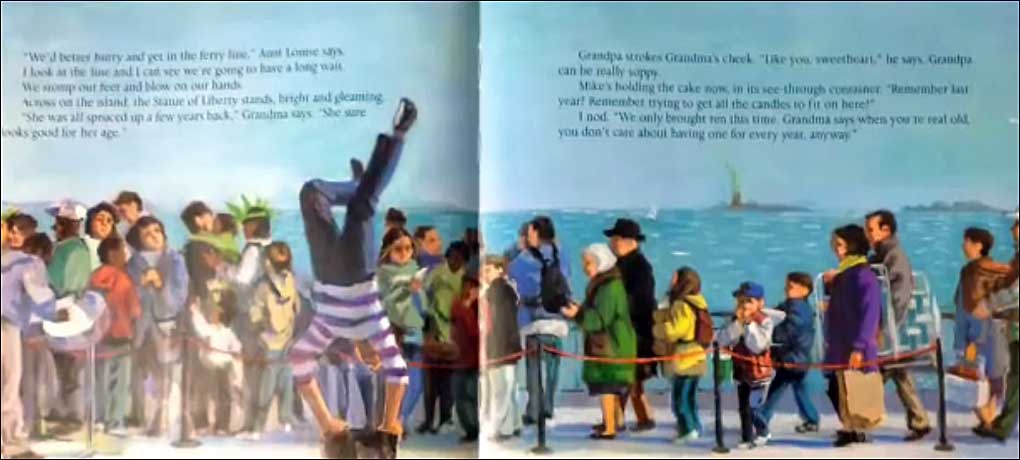 A Picnic in October Lesson / Activity Ideas:

We found a very comprehensive, FREE author study of Eve Bunting, the much celebrated author of A Picnic in October and many other popular children's books. One of the books covered in this activity pack is A Picnic in October.  To access this free resource, click:  A Picnic in October lesson/activity ideas
There are also several packets available for A Picnic in October on the popular teacher website teacherspayteachers.com.  (If you aren't familiar with this site, it's full of lesson plans, activities, learning games, and other curriculum materials made by teachers. We LOVE the site!!)