A More Perfect Union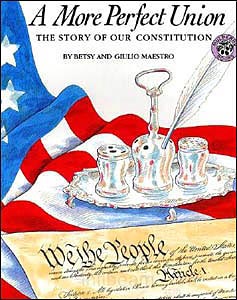 A More Perfect Union: The Story of
Our Constitution
written by Betsy Maestro
illustrated by Guilio Maestro
The Maestros have once again created a history book perfectly pitched to this audience. It's "simple, attractive, and informative" (School Library Journal), providing a very basic but easily understandable introduction to the story of the Constitution, from the convention to the Bill of Rights. 

This book lacks a lot of detail, but works beautifully as a first introduction to the document. In fact, School Library Journal ended its review by saying that of all the children's books on the history of Constitution written to day, this one is "the simplest and most accessible."
If you are trying to decide between the Fritz/DePaola title and this book, it's a tough call. Fritz's book, Shh! We're Writing the Constitution, interjects humor in history (via the tidbits about the founding fathers and DePaola's illustrations) whereas this book is more straightforward and serious. Getting both books is a good choice, as they certainly complement each other, but if you only want one,
choose this book if you want a more serious, factual approach to teaching the Constitution

choose Fritz's book if you think adding in some humor and humanity will be needed to engage your students in the subject

Regardless of which of the book you choose, you also need Lynne Cheney's We the People. That is a truly gorgeous book that belongs in every classroom!
Reading Levels

Interest Level:  Gr. 2-6           Grade Level Equiv:  5.2            Lexile Measure: 850L
See Inside This Book

Below are sample spreads from inside this book.  To see larger versions of these spreads, simply click on the images.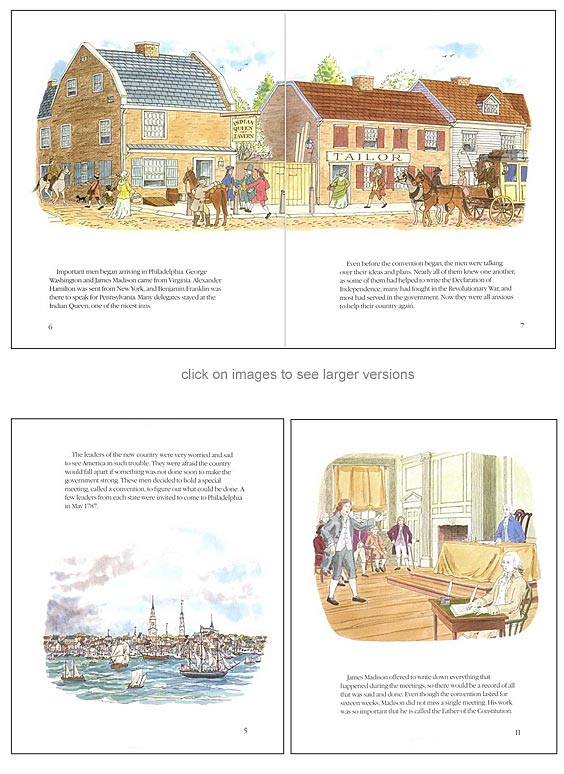 Please note that if you purchase an item from Amazon, they give us a small referral fee. And that helps us cover the costs of this website.


---