A. Lincoln and Me
by Louise Borden and Ted Lewin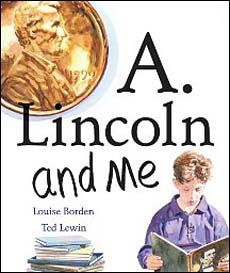 In A. Lincoln and Me, a skinny boy is teased because of his build until a wise teacher compares him to the outstanding Abraham Lincoln. The young boy--also born on February 12--begins to see similarities between himself and Lincoln, which makes him hopeful for his future. Readers will learn about Lincoln's nature and enjoy the realistic watercolor pictures.
As teachers, we like the history of this book, of course, but we also really like the message. It can be so hard for children to relate to these 'stuffy old men' they learn about in school. They lived so long ago, they are old and have gray hair, they didn't even play video games... :) This book does a really good job of personalizing the man, and does so in a way that really will cause children to wonder how they are like Abraham Lincoln themselves.  In fact, that's the discussion question we ask the class when done reading this book.
In their review, School Library Journal said "Lewin's distinctive watercolors lend style and substance to the book, producing a treat for the eyes. A story that's likely to spark discussion about heroes and role models." And Kirkus Reviews said "there's nothing preachy about Borden's text, which makes the boy's connection to this historical figure immediate, honest, and straightforward. It introduces Lincoln with beautiful simplicity to the youngest of children."


Reading Level for A. Lincoln and Me:

Interest Level:  Kindergarten - Grade 3
DRA Level:  24
Lexile Measure: 650L
Grade Equivalent:  2.7
Guided Reading Level:  M  

Read-Aloud vs. Individual Reading:
For younger kids, this book is probably better suited as a read-aloud than it is for individual reading, as the reading level is a bit high for Kindergarteners and 1st graders.  However, most second graders and third graders will be able to read this book themselves, as it is in the range of reading levels for kids at this age.


Below are sample pages from inside this book. Illustrator Ted Lewin has previously won a Caldecott Medal for his illustrations (in Peppe the Lamplighter).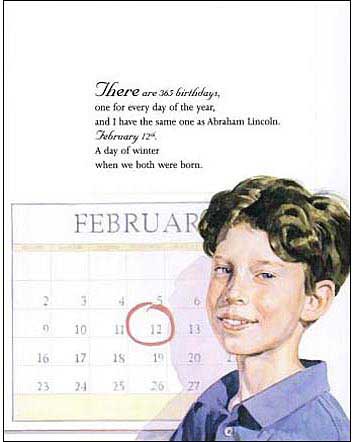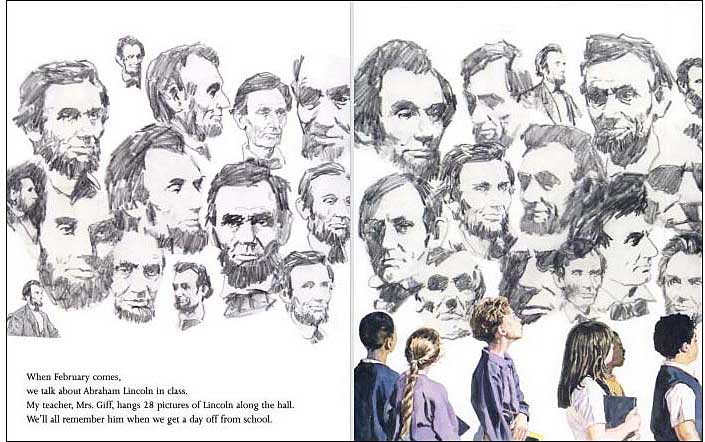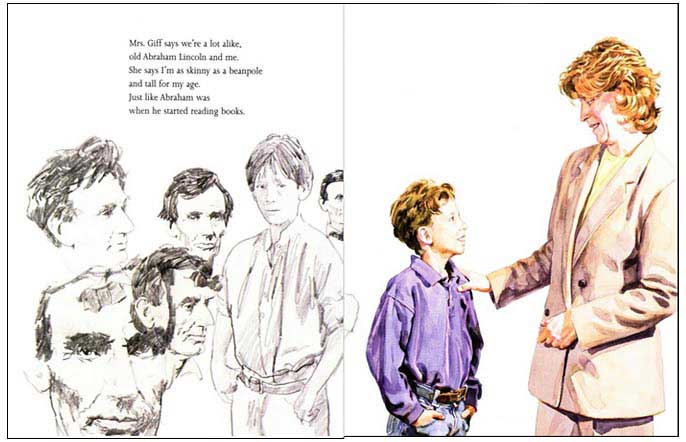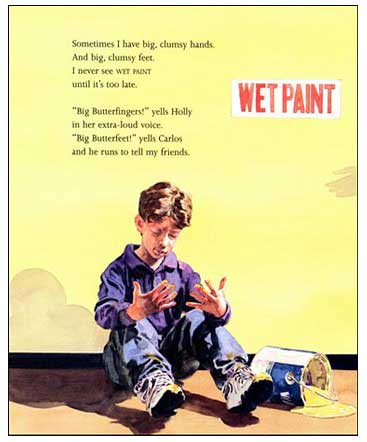 A. Lincoln and Me Lesson/Activity Ideas


Since A. Lincoln and Me is about a boy who finds inspiration in the life of a great man, teachers can build a extension activity / lesson idea on that by having kids come up with their own text-to-self connections. What grown up can they think of that inspires them to have courage, determination, and perseverance?  It could be Abraham Lincoln for them as well, or it can be another famous person, or even a person in their own lives.


Looking for kids books on Abraham Lincoln?  Check out our

sale kids books on Lincoln & Washington
Just $2.75 each!  Check out our list of kids books about Abraham Lincoln and George Washington. We often have this fantastic book in our inventory.  If we don't currently have this exact book today, there are likely lots more good books to choose from about this particular topic. All at 50% off retail!

return to list of Abraham Lincoln books or American History books or President's Day books