A Lime, a Mime, a Pool of Slime:
More About Nouns

written by Brian Cleary
illustrated by Brian Gable
Just like its predecessor, A Lime, a Mime, a Pool of Slime delivers tons of examples of nouns, including abstract and proper nouns, in an upbeat, kid friendly way. As with the previous book, the zaniness of the text is amplified by the illustrations.  This isn't our favorite in the series, as the randomness of the examples can get a bit distracting. Still, this book can be useful for teaching nouns in the classroom. Booklist ended its review of this book by saying, "recommended as an antidote to snooze-producing grammar texts".  :)
This book is part of the popular and effective Words are CATegorical series of children's language arts books. The books in this series feature zany cats providing oodles of examples of different language arts topics like a part of speech, a type of figurative language, etc (one topic per book).
Interest Level:    2nd grade - 4th grade

Below are sample spreads from inside this book. Fans of the series will recognize the characteristic illustrations: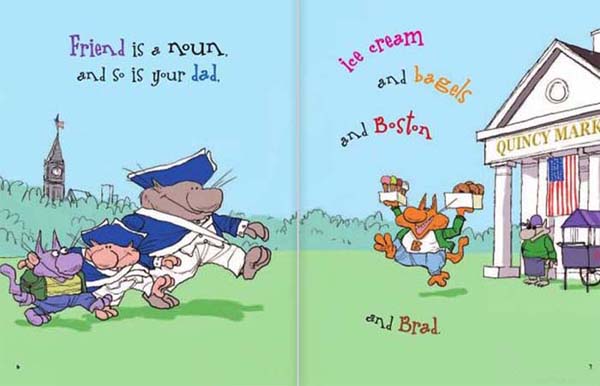 Where to now?
Now that you've seen this great book, what would you like to see now?  Please note that as an Amazon Associate, we earn from qualifying purchases.

If you like this book, check out the other Words are Categorical books. Kids love 'um, and they really are helpful when teaching different phonics / language art topics. (And there's a Math is Categorical line of books as well!) To learn more about these books, click on the book covers below or the link above.