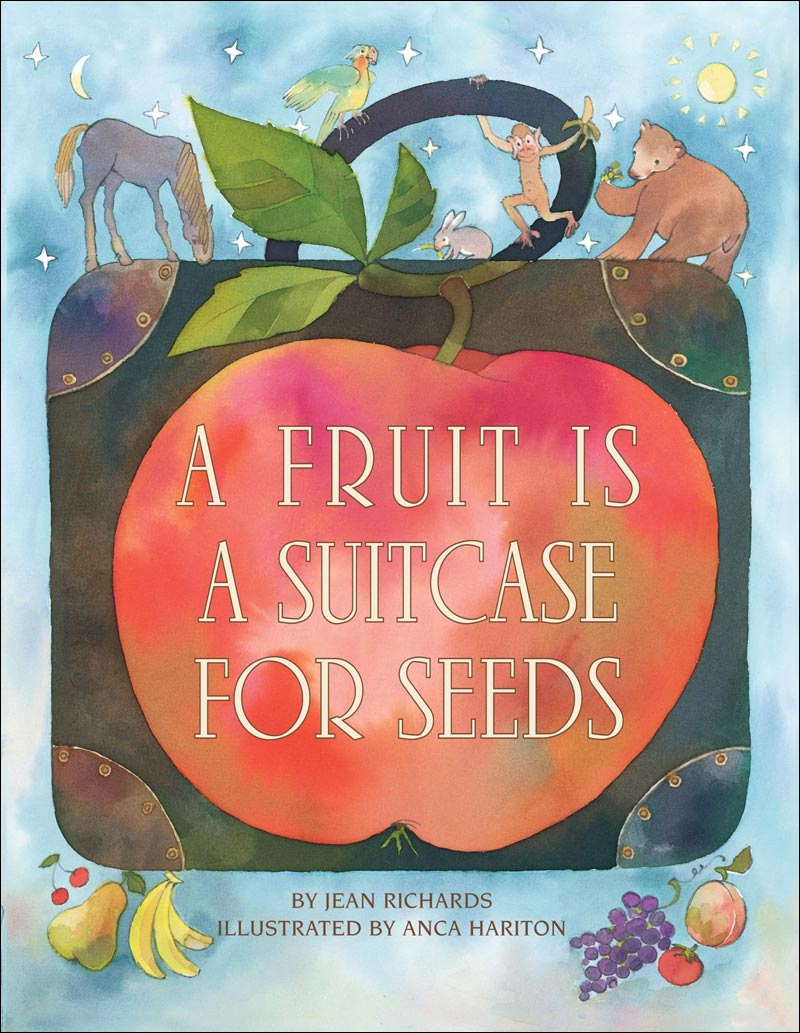 A Fruit is a Suitcase for Seeds
by Jean Richards
illustrated by Anca Hariton

We love A Fruit Is a Suitcase for Seeds! It's a kid-friendly introduction to the different types of seeds found in fruit. The book is built on the idea that "many seeds travel inside fruits. The fruit is like a suitcase for the seeds. It protects them on their trip."
After a few introductory spreads about seeds in general, each double-page spread is devoted to a different type of seed, like the following types of fruits:

- pitted fruit (ie: peaches)
- fruits with seeds on the outside (ie: strawberries)
- fruits with clearly visible seeds inside (ie: apples)
- fruits with hard to see seeds (ie: kiwi)
- vegetables that are actually fruits! (ie: tomatoes)
The last two pages include kid-friendly questions, answers, and facts that should definitely be shared with kids. For example, did you know the largest seed in the world weighs as much as a 5 year old!  Wow!


A Fruit is a Suitcase for Seeds Reading Level

Interest Level:       Preschool - Grade 2
Lexile Measure:    AD500L
DRA Level:           16
Guided Reading:   Level J
Read-Aloud vs. Individual Reading: This book is probably better suited as a read-aloud than it is for individual reading, as the reading level is a bit high for this audience.  Many second graders can  read this book, but the average reading level of preschool, Kindergarteners, and 1st graders is lower than this book, so it's best to read this one to kids in this audience.
Inside A Fruit is a Suitcase for Seeds

Below are two spreads from inside this book. The first spread below talks about fruits that have one large seed and the second spread talks about fruits with small seeds inside. Subsequent spreads cover fruits with small seeds on the outside, etc... This book really is quite educational!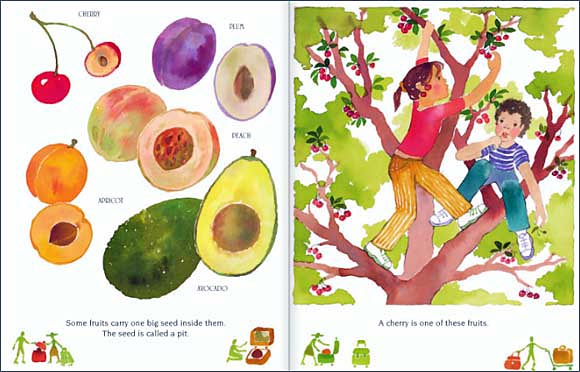 Lesson/Activity Idea for A Fruit is a Suitcase for Seeds
A Fruit Is a Suitcase for Seeds is a natural way to launch into a hands-on explorations of seeds in plants.  It can be as simple as reading this book aloud, then cutting up some of the fruits right in front of the students, and letting them explore the pieces to see the seeds up close.  Even those children who have seen all of these fruits before will likely never have given much thought about the seeds in each fruit.  We do this with out students, and each year we love watching them as they look in amazement at these fruits that they've actually known about for years. :)
We use the materials from Cara Carroll's Science of April packet, but these pages aren't essential. They are shown at right and can be found here: A Fruit is a Suitcase for Seeds Lesson / Activity
(We own the entire year's worth Cara Carroll's Science of the Year packets and they are AMAZING!!!  It's expensive but the materials are so worth it. We don't get any commission or anything saying that.  Just passing on our opinion. :)

(Teaching can get expensive, so when we do this lesson/activity idea with our classes, we are not giving kids big samples of each fruit to taste. This isn't really a tasting activity -- it's about seeds after all.  We generally bring a few extra fruits and while the kids are exploring the pieces we've cut up in front of the kids, we cut up the extra fruits (3 or 4 types) into very small pieces so that they can have a little treat once the activity is done. In our opinion, it seems a little mean to put the fruit in front of them and not let them eat ANYTHING.  A few end-of-activity fruit pieces seem to solve this dilemma...without resorting to letting them eat the pieces they just all touched. :)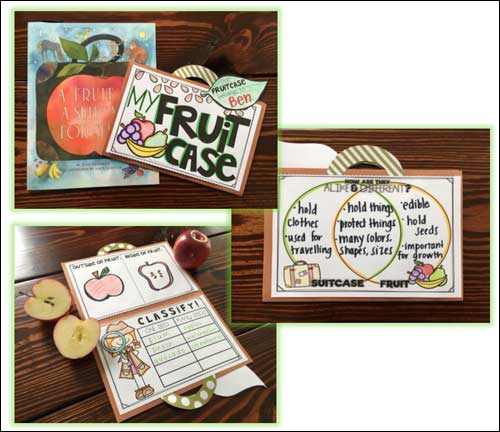 Where to now?
Now that you've seen this great book, what would you like to see now?  Please note that as an Amazon Associate, we earn from qualifying purchases.