A Drop of Water

A Book of Science and Wonder
by Walter Wick
A Drop of Water offers stunning close-up photographs of water in different stages--like droplets, frost, dew, condensing, evaporating, snowflakes...
Students often have a hard time imagining water changing from one form to another. These close up images by the creator of the I Spy series, can remedy that, taking your water cycle lesson plans to the next level!
If you're looking for a book that clearly explains the water cycle, this isn't it. Instead, where this book really shines is as a supplemental book for water cycle lesson plans, with you using the photographs as visual aids for discussions. It might be just what your visual learners need in order to really 'get it.'


Reading Levels
Interest Level:  Grade 2+
DRA Level:  40
Lexile Measure: 870L
Grade Level Equiv:  5.5
Guided Reading: S

Teachers will especially appreciate the section at the back that provides simple instructions for carrying out various observations and experiments with water. :)
Below are two sample spreads from inside Walter Wick's A Drop of Water. As you can see, the close up photographs are sharp and stunning and thought-provoking. Much of the book follows this format--with large images and extended captions explaining the photograph. Think of this book as a "photo essay"---a stunning one at that, sure to spark wonder in the minds of your students.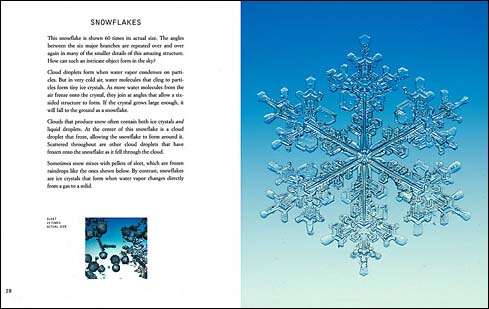 Where to now?
Now that you've seen this great book, what would you like to see now?  Please note that as an Amazon Associate, we earn from qualifying purchases.