A Day's Work
by Eve Bunting and Ronald Himler
Francisco tells a little lie when he tries to get some gardening work for his grandfather, even though the old man cannot speak English and knows nothing about gardening. But, Francisco learns the value of honesty when his grandfather's integrity is noticed by his boss and rewarded with more work.
"This intergenerational tale about respect, honesty, and the difficulties immigrants have in finding work would be an excellent addition to collections that support social studies curriculums."  (School Library Journal)

Reading levels
Interest Level: K-Gr. 3           DRA Level: 24
Difficulty Level: age 4-8         Lexile Measure: 350L
Below are sample spreads from inside A Day's Work, written by Eve Bunting and illustrated by Ronald Himler.  As you can see, there's quite a bit of text per spread but the story is really quite powerful. Kids are moved by close relationship between the boy and his grandfather and, in our experience, really get into their plight.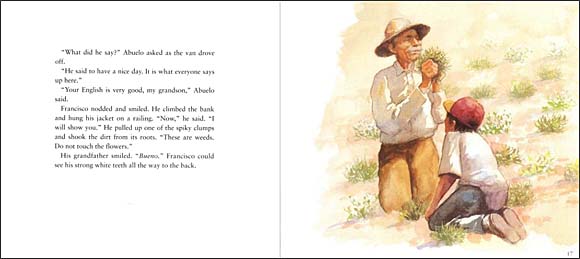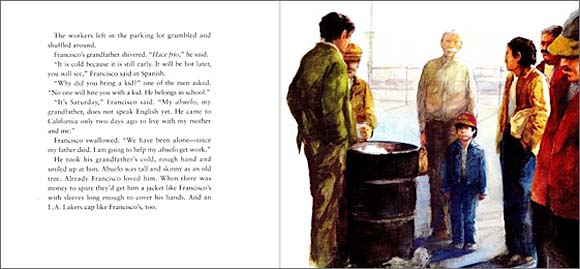 Where to now?
Now that you've seen this great book, what would you like to see now?  Please note that as an Amazon Associate, we earn from qualifying purchases.
see this book on Amazon.com    or     more children's books for teaching honesty     or     SALE character education books (just $2.75)