A Cache of Jewels

and other Collective Nouns

A Cache of Jewels by Ruth Heller
This exploration of the 'world' of collective nouns starts by defining what there are, then gives 25 vibrantly illustrated examples (ie: bunch of bananas, batch of bread...)

The Children's Book Review Service described this book as "highly informative and lushly, colorfully, and realistically illustrated. An unbeatable combination for pleasure and learning." We totally agree!

Truthfully, before we saw this book in person, we wondered why people liked it so much.  Merely judging the book by it's cover, It seemed to be kind of dated looking. However, when we finally viewed in person -- in actual size -- we "got" it.  The text is clear, the nouns lesson is effective, and the illustrations really are quite striking!

And we think Heller picked out some good collective nouns for teaching this concept. Many of the collective nouns used will be familiar to your students, but Heller does include some unusual ones (ie: gam of whales). It seems that many books and webpages about collective nouns seem to be particularly enthralled with the really peculiar collective nouns -- the ones that make you stop and say "really?"  That may be fun for adults to read through, but when you are trying to introduce this concept to kids who've never heard of collective nouns before, ;common' is a lot more helpful than 'obscure'.  So kudos to Heller on that front!

This book was an American Bookseller Pick of the Lists title!
Reading Levels for A Cache of Jewels

Interest Level:  Grade 1-4               DRA Level: 30                         
Lexile Measure: 420L                     Guided Reading:  N
See Inside this book

Below are two sample spreads from inside A Cache of Jewels: and Other Collective Nouns. While our little sample pages give a glimpse at the detail and vibrancy of the illustrations, you really do need to see them in actual size to fully appreciate them. (We know the point of this book is to teach about collective nouns, but we can't help but talk on and on about the illustrations. With children's books, it seems it's always the illustrations that pull us in! :)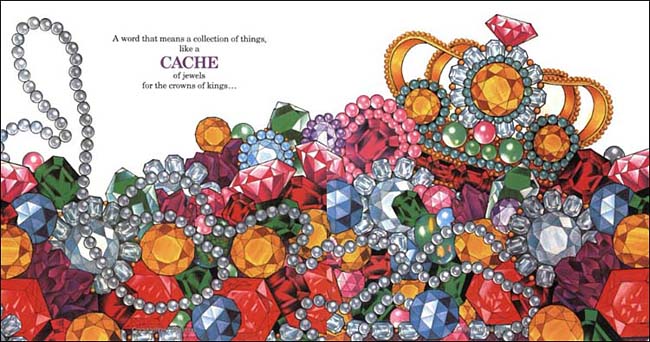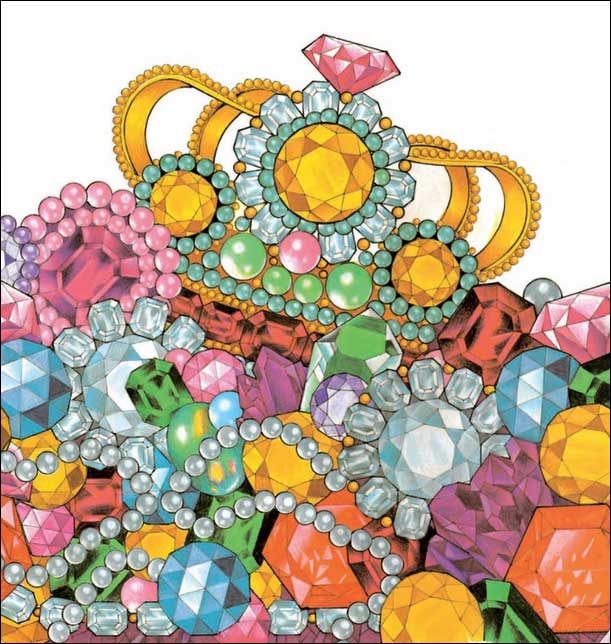 Or, to learn more about this particular book, click the link below to visit this bookpage on Amazon.com.  Please note that if you purchase an item from Amazon, they give us a small referral fee. (This helps pay for site hosting costs, thus allowing us to keep everything free for site visitors!)

---
If you like this book, check out more books by Ruth Heller (World of Language series). True, these books are all a few decades old, but we think they're great teaching resources nonetheless. To learn more, click on the sampling of book covers below or the author's name above.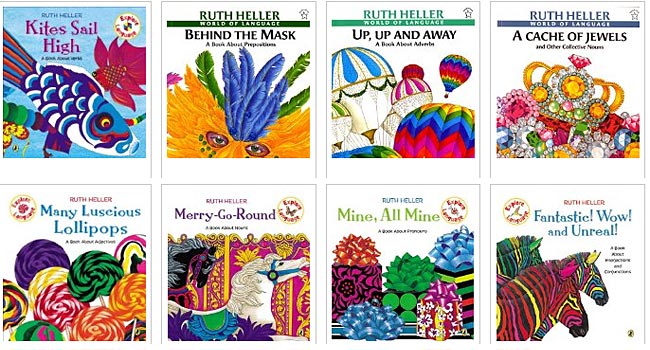 ---