2 X 2 = Boo! A Set of Spooky
Multiplication Stories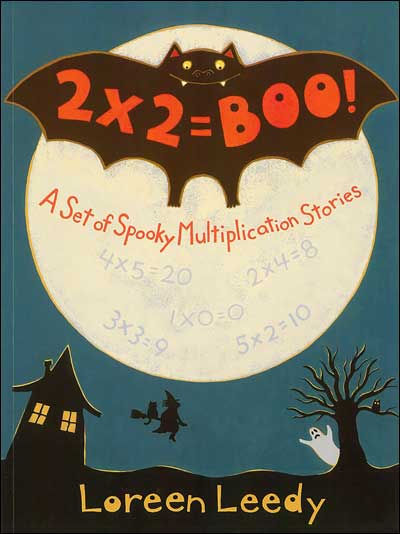 2 X 2 = Boo! A Set of Spooky Multiplication Stories
by Loreen Leedy
2 x 2 = Boo is a cute Halloween-themed multiplication concept book that works any time of the year. In short chapters that each focuses on one number (from 0-5), vampires, witches, skeletons and other creepy crawlies pose and answer ghoulish questions that not only teach multiplication facts but also visually illustrate the equation being covered.
We agree with School Library Journal who praised the book for teaching multiplication, calling it "an entertaining alternative to rote memorization; it's a little silly, but it works."
Note: The comic-book format makes teaching with it tricky. Unless you have a document camera to project on a screen, this book is better suited to small groups or individual reading. Below are spreads from inside 2x2=Boo!, to give you an idea of what the illustrations look like, and how math is integrated. This first spread is from Chapter 2: Seeing Double, in which a young witch finds glasses with the following directions: "Dr. Spook's Doublevision Spectacles. Directions: Put on glasses and stare at something. Multiply by two---the item will double."
Below are four sample spreads from inside this book.  As you can see, it's full of math facts....and best reserved for individual reading (vs read alouds):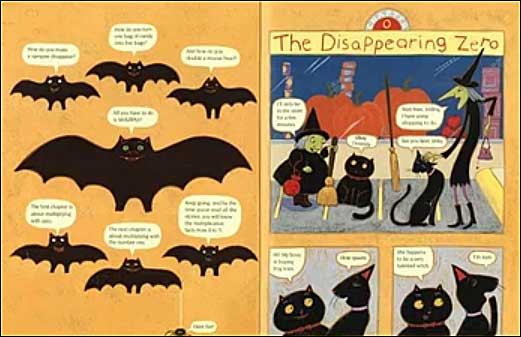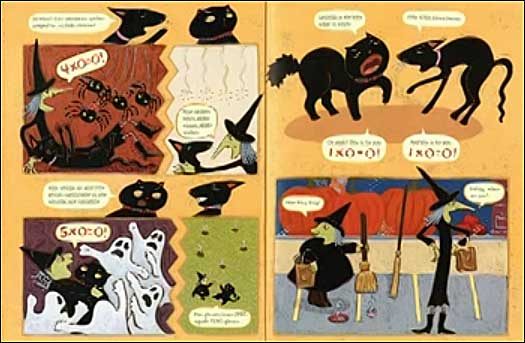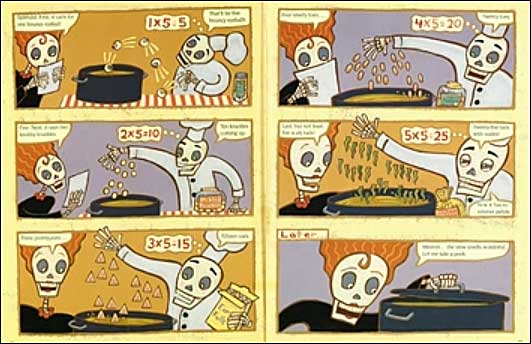 Where to now?
Now that you've seen this great book, what would you like to see now?  Please note that as an Amazon Associate, we earn from qualifying purchases.