14 Cows for America
by Carmen Agra Deedy
illustrated by Thomas Gonzalez

14 Cows for America is a beautifully illustrated book that tells the true story of how one small African village was so moved by tragic events of September 11th that they decide to send American the only help they could -- a gift of 14 cows. The villagers learned about the events of 9/11 from a returning villager, who had been in America attending medical school. After hearing about the tragedy, they invited the US Ambassador to visit their village, and when he did, they performed a ceremony and presented their gift of 14 cows--a tremendously generous gift in their world-- to help Americans in their recovery.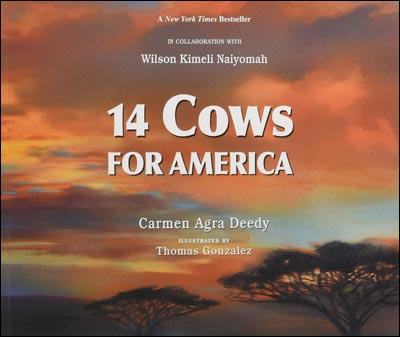 We love this extraordinary and touching true story and its beautiful illustrations, but there is one important thing that adults need to consider before reading this book aloud to kids. The book presupposes that the audience is quite familiar with the terrorist attacks on September 11th, yet we think many children in the book's intended audience would either not know about it (younger children) or have only a minimal understanding of what happened (older children). The text describing the man's account of September 11th does not directly refer to the attacks but simply says, "Buildings so tall they can touch the sky? Smoke and dust so thick they can block out the sun? Fires so hot they can melt iron?"  The intended audience of 2nd to 5th graders were all born after the attacks and therefore these events are not 'burned into memory' like they are for us adults. Most children will probably miss this indirect reference.
We mention this simply as something to consider before reading 14 Cows for America to your child or class. Teachers or parents may want to stop at the point in the story where the attacks are referenced and either directly state that he is talking about the terrorist attacks of 9/11 (if you think the children are familiar with the attacks) or stop and simply state that the storyteller is sharing a story about how some people in America were hurt in an accident (for younger kids.)
Despite this rather significant caveat, we've decided to include 14 Cows for America on our list of 'best books' about giving and generosity because it is so beautifully illustrated and the true story it tells is very touching. It would be a great springboard for talking about how the size of the gift is not as important as the meaning behind it (ie: 14 cows was a huge sacrifice for this tribe, and while it was not really what was needed and was too small to 'solve' the problem, it required great generosity and self-sacrifice on the part of the villagers and showed the depth of their kindness and generosity.)
Before reading the book aloud, be sure to tell your class/child that this is a true story!  A spread in the back of the book includes a picture of the real individuals involved, a note from the returning medical student, and an illustration of the special flag that was made to commemorate the gift. (The flag will hang in the memorial museum in the rebuilt World Trade Center.)
Interest Level:  Grade 2-5

See inside 14 Cows for America

Below are sample pages from inside this beautifully illustrated book. The first two spreads show a villager who had been studying medicine in America returning to his small Kenyan village for a visit. In the second spread, the village children had run out to greet him, and he receives them by touching their head---a warrior's blessing.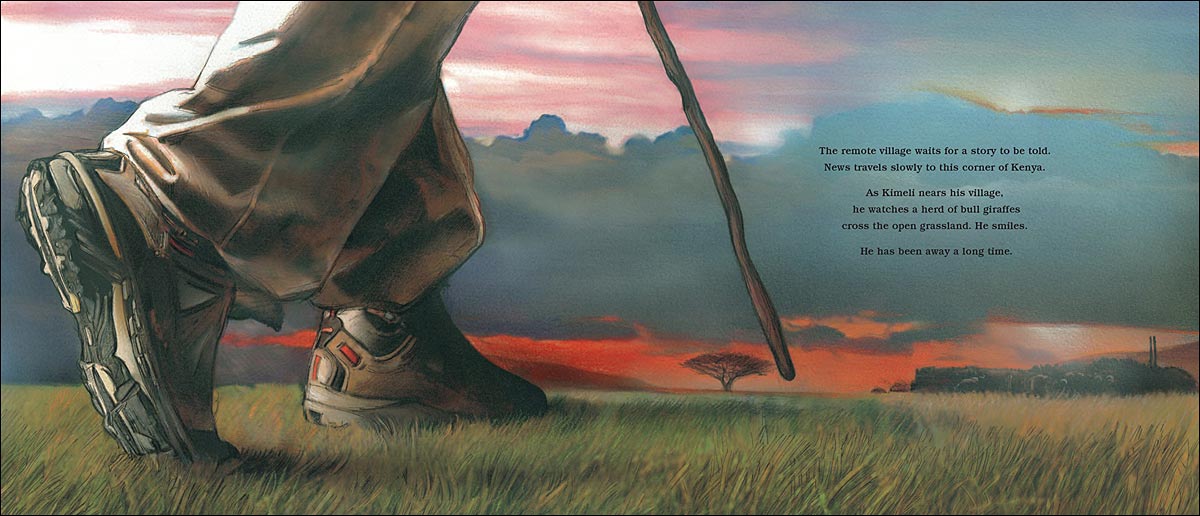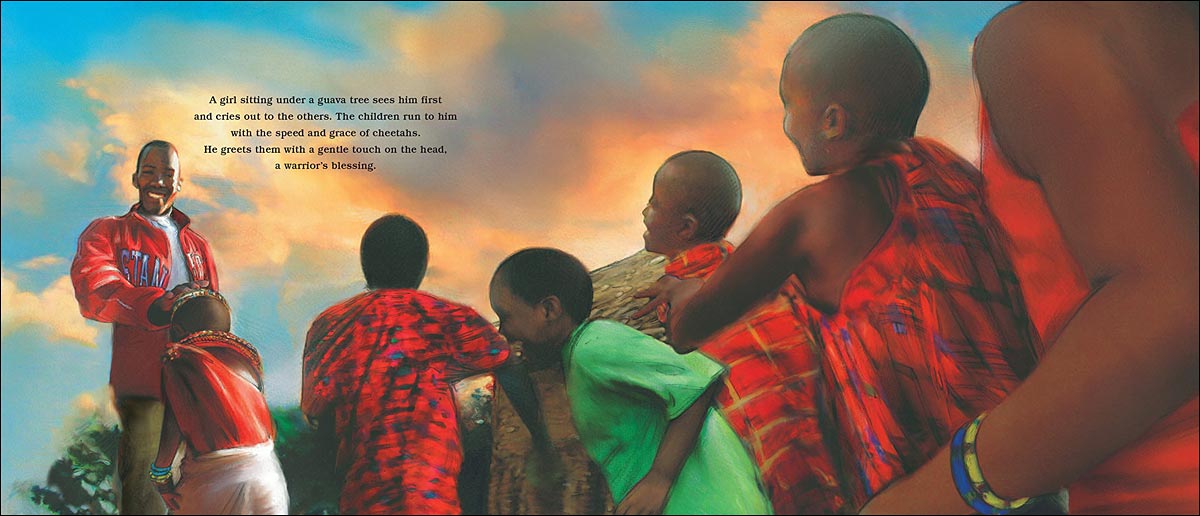 And below are a few more pages.  The one on the right is part of a spread depicting the ceremony held for the US Ambassador when the cows were presented as a gift. In addition to telling this special story, 14 Cows for America provides a peek into the culture, traditions, and ceremonial dress of Kenya's noble Maasai tribespeople.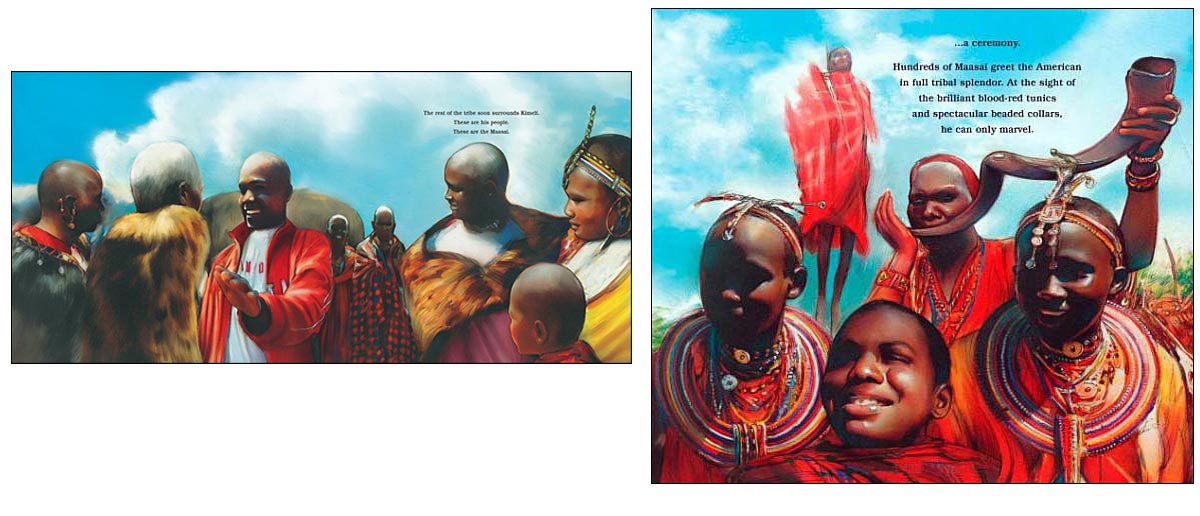 Where to now?
Now that you've seen this great book, what would you like to see now?  Please note that as an Amazon Associate, we earn from qualifying purchases.