123 NYC:
A Counting Book of NYC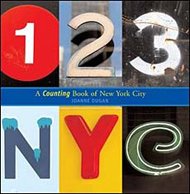 by Joanne Dugan
A photographic numbers book, featuring vistas, landmarks, and everyday items in New York City. Each spread features a different number from 1-20, with photos of the numeral and the corresponding numbers of an iconic NYC item.

This is definitely one of those number books that is intended for ALL ages. Little ones can count out the items on the page, and older folk can just appreciate the clever compositions and cool NYC vibe. Just like in the author's ABC NYC or in Stephen Johnson's Alphabet City and City by Numbers, this book also subtly encourages children to  look at their surroundings in a more open, creative way.


This book was an International Reading Association Notable Book.

Below are sample spreads from inside 123 NYC:



Please note that if you purchase an item from Amazon, they give us a small referral fee. And that helps us cover the costs of this website.


---