10 Little Rubber Ducks
by Eric Carle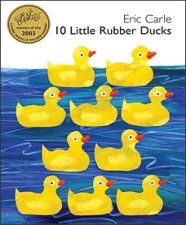 10 Little Rubber Ducks is one of our favorite Eric Carle books, partially due to the colorful, perky illustrations and partially due to the fact that the story is based on an actual cargo ship accident that set 29,000 plastic ducks, turtles and frogs adrift in the ocean.
Eric Carle's version scales the spill down to a more 'manageable' ten duckies adrift. This title tells their story from production in a factory to 10 of them falling into the sea during a storm, seeing different oceanic sites, and finally ding their way to a different location.
Ordinal numbers (shown as "1st" as opposed to "first") are used for each duck and printed in bold, making it a great resource for teaching ordinal numbers. School Library Journal called it "a definite 10."  We agree. It's adorable and kids love it.


Interest Level: Preschool - Grade 1


Here is a spread from inside the book, to give you an idea of the illustrations---although who isn't already familiar with Eric Carle's stunning collages. This takes place at the beginning of the book, when the little ducks are being loaded onto the cargo ship.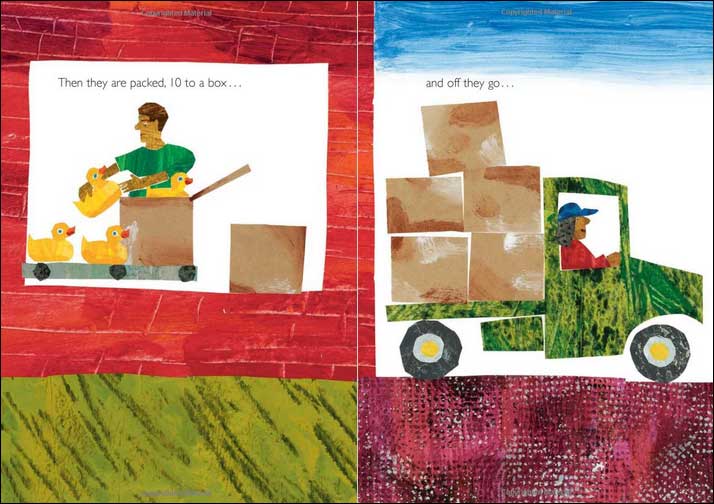 10 Little Rubber Ducks Activities

Share the Real Story
Kids love hearing the real story that inspired Eric Carle to write this book. The idea of thousands of little rubber ducks (along with other bathtub toys like beavers, turtles and frogs) floating out at sea for a decade and finally washing up on the shores of New England is almost unbelievable!  For the specifics of the story to share with your class, click here.

UEN Paper Ducks Activity
The Utah Education Network website lists a fun, interactive lesson/activity to go with this book. In short, the teacher reads the book, then has students try to retell the story using ordinal numbers and perhaps even reference to the idea that the ducks went in different directions---NSEW--although they certainly won't remember which duck does with which direction!.  After that, each student is given a paper with ducks on it, which they cut out and color the ducks, then make the ducks follow the directions given.  Also, the students line up the ducks on their desk and point to the ordinal position that the teacher says. For a full description of the activity and the duck handout, visit the UEN page here. (Scroll down.)


Or, to learn more about this particular book, click the link below to visit this bookpage on Amazon.com.  Please note that if you purchase an item from Amazon, they give us a small referral fee. (This helps pay for site hosting costs, thus allowing us to keep everything free for site visitors!)

---