Teaching Multiplication
with Children's Books

Not long ago, teaching multiplication largely meant helping children learn their times tables. That was certainly true when we were children in elementary school. Until recently, learning multiplication was ALL about memorization.

Now, the focus is on helping kids visualize the numbers involved and see the bigger picture of multiplication--like understanding why it's more useful than counting, what the different real world applications are, etc.  That's generally the more difficult aspect of teaching multiplication. Luckily that's where fun and clever children's books excel!
These books will add a blast of fun to your lessons, or if you are a parent, these books can help supplement the math that your child is learning in school. Multiplication has never been so fun! The list below of math books for kids includes links to buy the books on Amazon. Or, to save 50% or more with our math SALE books.


Best Multiplication Picture Books

with links to buy on Amazon
1.  Amanda Bean's Amazing Dream 
A Mathematical Story by Cindy Neuschwander, illustrated by Liza Woodruff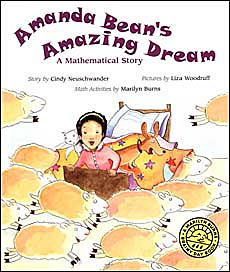 (2nd grade - 4th grade) Amanda Bean loves to count but isn't sure about why she needs to learn multiplication. Her teacher says it will speed up the process, but she can't quite see it. That is, until she has a crazy dream full of sheep on bicycles, knitting grannies, and more. In the dream, she tries to count the sheep, balls of yarn, and sweater sleeves, but she can't count it fast enough. She then heeds the advice of the talking sheep and uses multiplication. When she wakes from her dream the next morning, she's excited to go to school... and she's ready to finally learn multiplication.
This book is best suited for your initial introduction to multiplication, as it deals with WHY multiplication is a useful math skill to acquire. To be clear, this book does not teach HOW to do multiplication, just why it's better in certain situations.That's why we think it's really best for those very early lessons.

And while this book was clearly written to teach multiplication, "the light tone...and buoyant good humor of Liza Woodruff's ink-and-watercolor illustrations keep it afloat." (Booklist)   Below are the first several spreads from inside this book: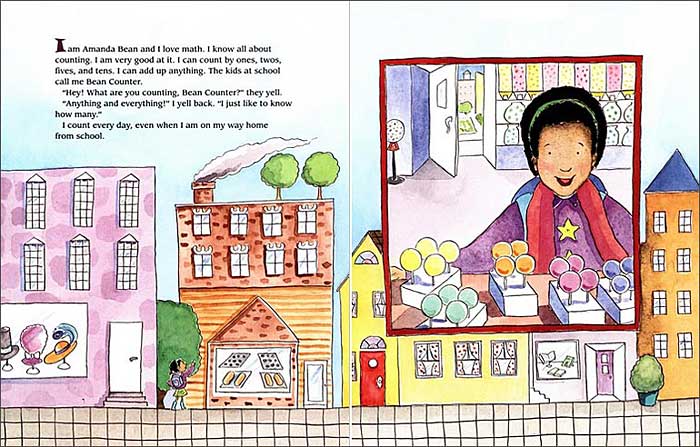 2.  The Best of Times 
Math Strategies That Multiply by Greg Tang; illustrated by Harry Briggs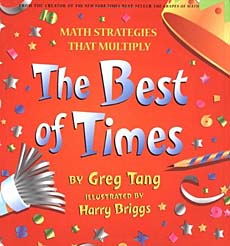 (3rd grade - 6th grade) Once again, Tang has created a book that shows the benefits of setting aside memorization and rules when teaching multiplication, favoring logical and creative thinking instead. Through Tang's bouncy rhymes and Brigg's engaging digital artwork, this book demonstrates the relationships between numbers and how that relationship can help with learning and performing multiplication.
We agree with School Library Journal  who called The Best of Times "a multiplication book that really adds up" and suggested "this title would enhance math units and would be a fun read-aloud." Tang and Briggs do it again.  Below are two sample spreads from inside this book: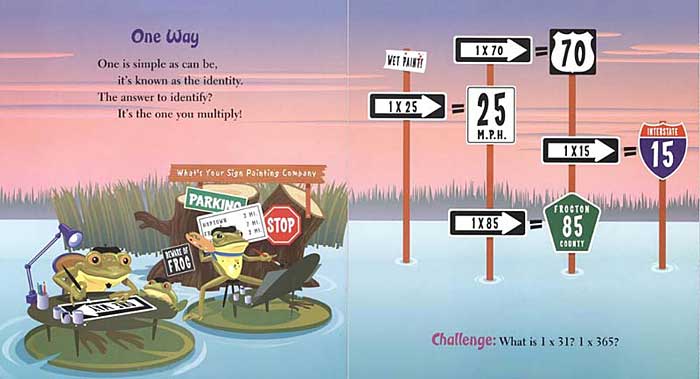 3.  The Lion's Share 
A Tale of Halving Cake and Eating It, Too by Matthew McElligott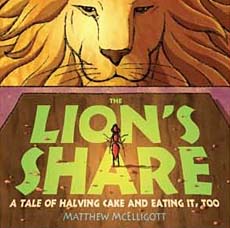 (1st grade - 3rd grade) In this beautifully illustrated picture book, lion has baked a cake for his friends, but each of his greedy friends takes half the cake when it's passed to them, leaving Lion with only a crumb. Ant feels bad and offers to bake another cake. The others hear this, and not wanting to look bad, each offers to likewise bake cakes for the lion, but they each try to outdo each other, promising twice the cakes promised by the previous guest.
Soon, hundreds of cakes are being promised and the result is quite comical.  This is one of our favorites for teaching fractions, plus it provide an early exposure to division and multiplication and also teaches about generosity verses selfishness.
In a starred review, School Library Journal said "The captivating ink and watercolor illustrations... reinforce the mathematical theme with humor and detail. Many layouts effectively present a graphic display of the simple fraction concepts. The results are terrific." Below are sample pages from inside The Lion's Share.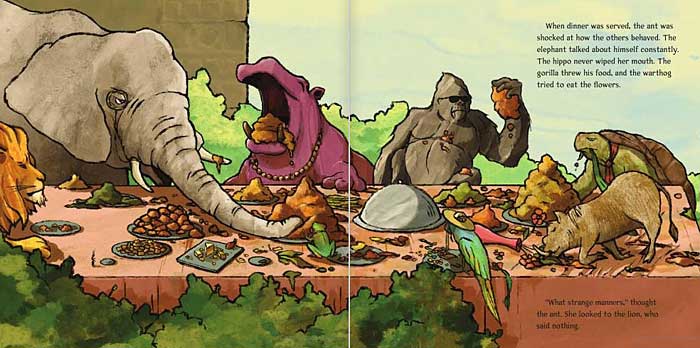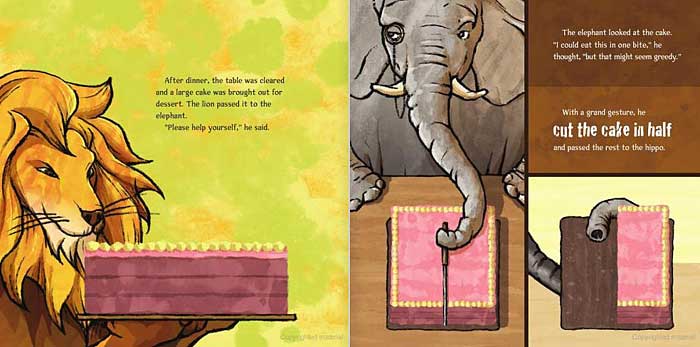 4.  2 X 2 = Boo! 
A Set of Spooky Multiplication Stories by Loreen Leedy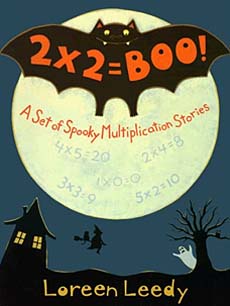 (2nd grade - 4th grade) 2 x 2 = Boo is a cute Halloween-themed multiplication concept book that works any time of the year. In short chapters that each focuses on one number (from 0-5), vampires, witches, skeletons and other creepy crawlies pose and answer ghoulish questions that not only teach multiplication facts but also visually illustrate the equation being covered.
We agree with School Library Jrnl who called it  "an entertaining alternative to rote memorization; it's a little silly, but it works."

Note: The comic-book format makes teaching with it tricky. Unless you have a document camera to project on a screen, this book is better suited to small groups or individual reading. Below are spreads from inside 2x2=Boo!, to give you an idea of what the illustrations look like, and how math is integrated. This first spread is from Chapter 2: Seeing Double, in which a young witch finds glasses with the following directions: "Dr. Spook's Doublevision Spectacles. Directions: Put on glasses and stare at something. Multiply by two---the item will double."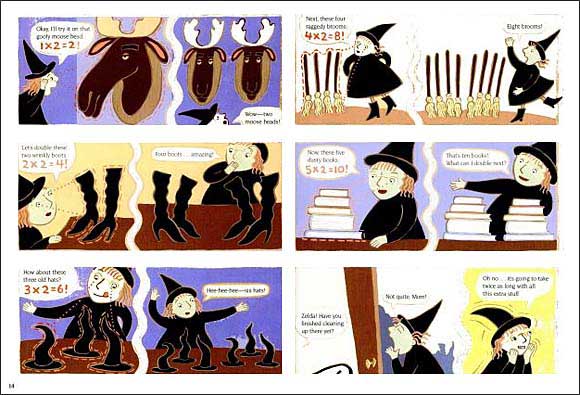 5.  Multiplying Menace 
The Revenge of Rumpelstiltkskin by Pam Calvert; illustrated by Wayne Geehan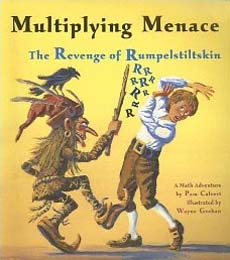 (3rd grade - 6th grade) Rumpelstiltskin has returned and is threatening to harm the kingdom if he is not repayed for the gold he spun 10 years ago. The baby that was promised to him in the fairy tale is now a ten year old boy named Peter and he is the only one who can get hold of Rumplestiltskin's secret multiplying wand and save the kingdom.
In the process, the reader learns about multiplying with whole numbers and fractions.This is a fun book to read aloud to kids learning multiplication (including fractions), but not as an introduction. Kids who cannot themselves multiply whole numbers and fractions will not be able to follow Peter's math solutions. By contrast, kids who have familiarity with the subject will enjoy solving the dilemma along with Peter. Therefore, we recommend this title in the middle or end of your unit, not as an introduction! Sample are two sample spreads: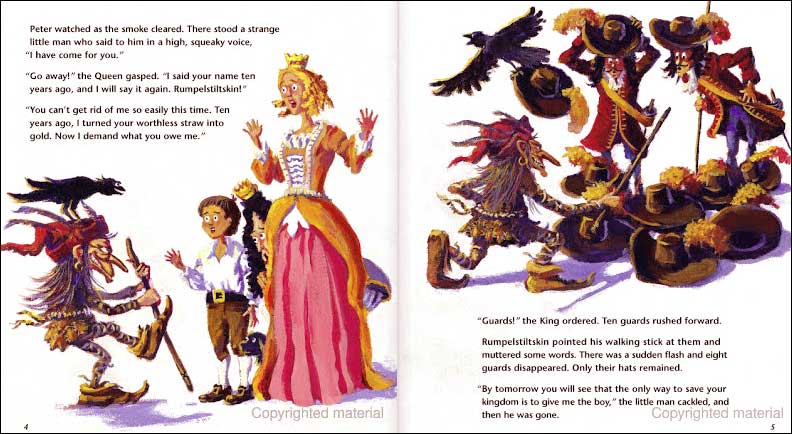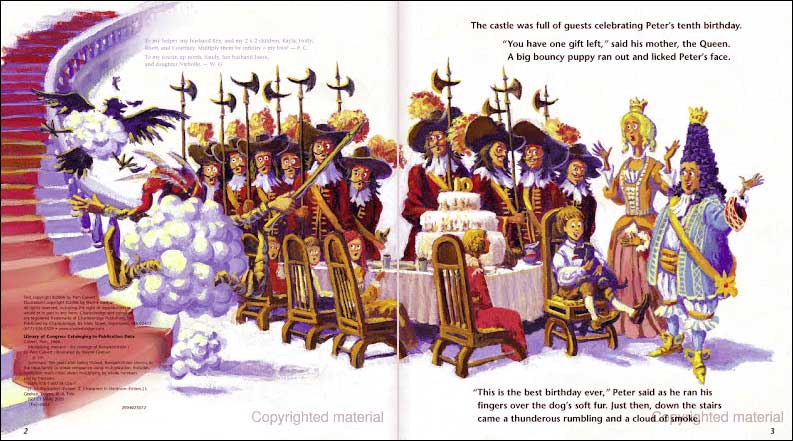 6.  365 Penguins 
by Jean-Luc Fromental; illustrated by Joëlle Jolivet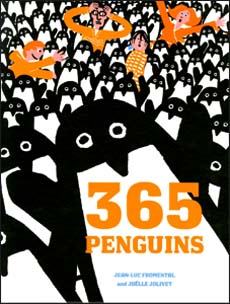 (1st grade - 4th grade)  A family is baffled when their uncle, an ecologist, keeps sending them a penguin a day. They quickly become overwhelmed trying to care for the increasing penguins and finally use multiplication to organize, feed and care for them.
It's a silly storyline, but the math lesson is a lot of fun and the retro-style illustrations are really unique!  School Library Journal points out that "the text provides endless opportunities for word problems" and Booklist says "this is a lively romp from the beginning to the end-- when the first polar bear arrives."
The following sample pages show the tired and overwhelmed family after just one month of having a penguin arrive each day. As months go on and penguins keep arriving, the hilarity--and the application of math to help them cope-- increases.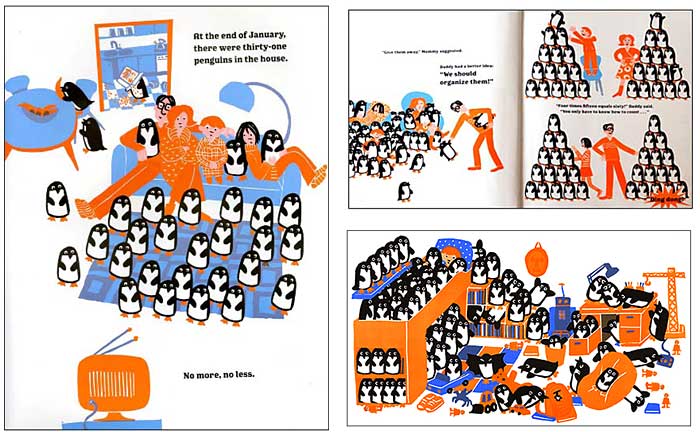 List Continued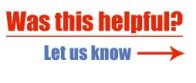 We LOVE getting likes!  It makes us want to keep making these lists!  :) Please press LIKE if you found this information helpful. And help us spread the word by sharing the page.


Or Pin this page to your Pinterest board to share it and remember it for later. :)