Teaching Contractions
and Possessive with Books

Below are great kid's books for teaching contractions and possessives. This is a challenging topic! Kids seem to get what apostrophes are for, but then actually producing words with apostrophes...that's when things sometimes go south! Knowing which letters to remove, where to put the apostrophe, which words can be turned into contractions and which cannot... there's a lot to know.
We have found that repeated exposure to contractions really the best way tackle the confusion, and children's books are perfect for this! The books below are specifically about contractions and can be a great help, but be sure to also point out the contractions you come across when reading aloud other children's books from your classroom library.


Books for Teaching Contractions
and Possessives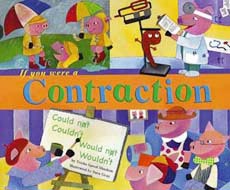 If You Were a
Contraction 
(defines contractions and
provides lots of examples,
part of the Word Fun series)
1st grade - 3rd grade

Greedy Apostrophe
A Cautionary Tale
(punctuation marks come
to life and 'do their jobs')
by Jan Carr
1st grade - 3rd grade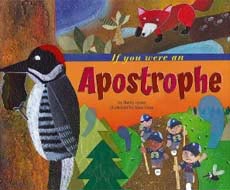 If You Were an
Apostrophe
(covers possessive, contractions,
usage in o'clock... even clarifies
the difference btwn its and it's)
1st grade - 3rd grade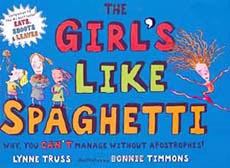 The Girl's Like Spaghetti
Why, You Can't Manage
Without Apostrophes!
(funny proof that apostrophes
make a big difference!)
by Lynne Truss
2nd grade - 4th grade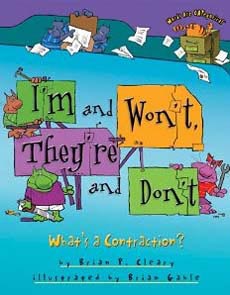 I'm and Won't, They're
and Don't
What's a Contraction?  
(full of funny examples)
by Brian Cleary
1st grade - 5th grade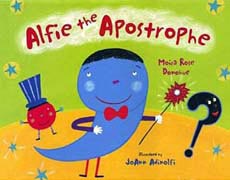 Alfie the Apostrophe
(punctuation marks hold
a talent show and each
mark plays its role)
by Moira Donohue
1st grade - 4th grade
And don't overlook these popular books
when teaching contractions:
If you are teaching about contractions in your classroom, be sure to check out your existing collection for children's books that happen to have a lot of contractions!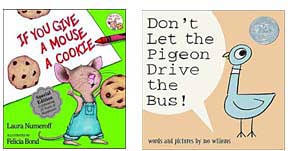 We like to read the books from the series Don't Let the Pigeon Drive the Bus (by Mo Willems) and the series If You Give a Mouse a Cookie (by Laura Numeroff) during story-time in the days after introducing contractions. Books from these two series are great for providing lots of practice seeing and understanding what has just been taught. And kids are so proud of themselves to finally be 'in' on the secret of what those little little squiggles mean!
Help!  We need more books to use when teaching about contractions.  Do you know of any that we missed? If so, please let us know.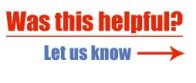 We LOVE getting likes!  It makes us want to keep making these lists!  :) Please press LIKE if you found this information helpful. And help us spread the word by sharing the page.


Or Pin this page to your Pinterest board to share it and remember it for later. :)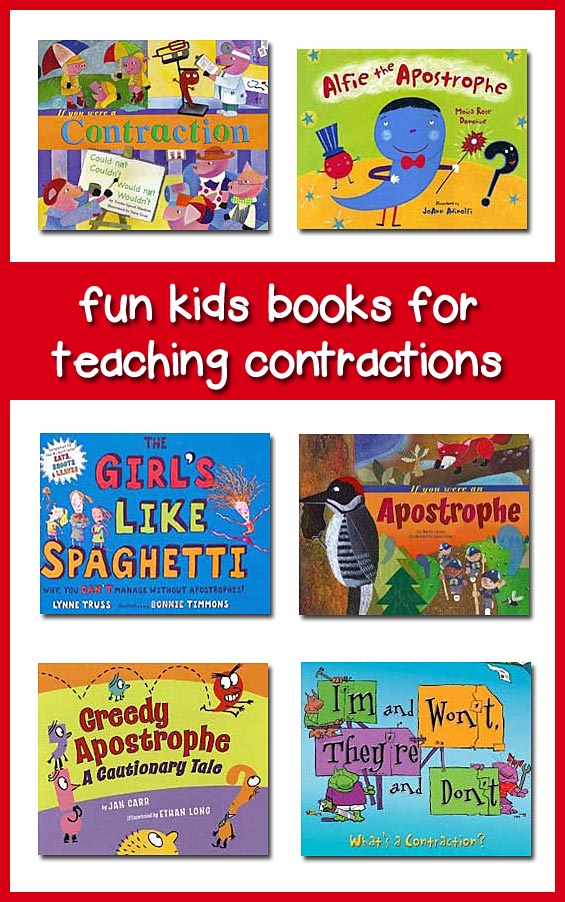 ---