Fraction Action
by Loreen Leedy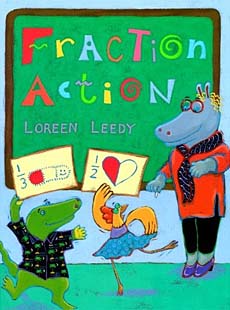 With the guidance of a likeable cow, readers are guided in the basics of fractions, like parts of a group, parts of a whole... Each spread shows the cow in a different scenario and asks related fraction questions  (ie: "What fraction of the cow is white?")
Written by an elementary math teacher, this book really does make fractions fun. Plus, the illustrations are adorable and enhance the fractions lesson beautifully. School Library Journal called this book "appealing." We agree.



Reading Levels

Interest Level: K-Gr. 2
Grade Equivalent: 2.1
DRA Level: 30
Guided Reading: N
See Inside

Below are the first two spreads from inside Fraction Action. We've included these sample pages in order to give you an idea of what the illustrations look like and how math is integrated. As we mentioned in the book summary, there's a lot going on on each spread, but the math is solid and your students will learn...IF you can make it work via using an Elmo or using the book in small group settings.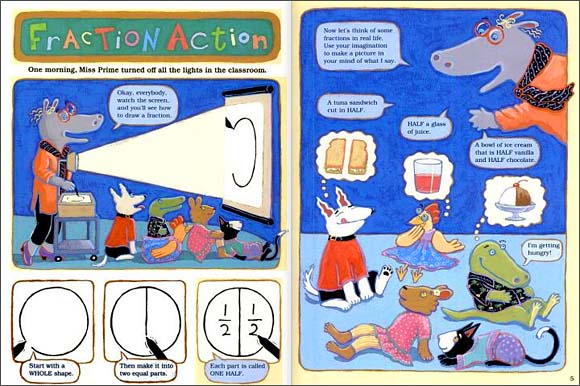 To learn more about this book, click the link below.  Please note that if you purchase an item from Amazon, they give us a small referral fee. (This helps pay for site hosting costs, thus allowing us to keep everything free for site visitors!)

You may also want to check out other books by Loreen Leedy. To learn more, click on the images below or or the link above. :)