Wemberly Worried


by Kevin Henkes



summary, lesson and activity ideas,
DRA & Lexile, a peek inside, etc
Summary of

Wemberly Worried
Little Wemberly is a darling little

mouse with a problem: she can't stop worrying! Wemberly worries about everything, from little things to big things. She worries when she's at home, she worries when she's out,


she's out, she even worries at the playground! She is especially worried

To buy this
book from
Amazon, click here
about the first day of school, but when she gets there and meets Jewel--




a fellow worrier--Wemberly finds that the world isn't quite so scary after all now that she has a friend at her side.



We recommend

Wemberly Worried

for the first week of school, as it is "an excellent vehicle to address children's fears about starting school." (SLJ) And, it's also great for using during units on feelings/emotions since "this winning heroine speaks to the worrywart in everyone" (

Publ. Weekly

, starred review).

Beyond that,

Wemberly Worried

is a great book to read any day of the year! As

School Library Journal

said
in their starred review of the book,
"Henkes once again puts his finger on the pulse of young children, combining good storytelling, careful characterization, and wonderfully expressive artwork to create an entertaining and reassuring picture book." So true!


Wemberly Worried by Kevin Henkes



Reading Stats


Interest Level: K-Gr.2 DRA: 13-14
Reading Level: age 4-8 Lexile: AD170L



Topics Covered


Feelings--Worrying
First day or week of school



Awards & Rating


Caldecott Honor Book 1994
Intl Reading Ass. Teachers & Childrens Choice
Average Amazon Rating: (26 reviews)
Lesson & Activity Ideas

Lesson Idea: Letter Writing Activity
If you are teaching letter writing, why not have your students write letters to Wemberly, encouraging her and telling her about their own first days of school or their own worries that they've dealt with. We do this and the result is quite adorable. (We will post a picture of a few examples soon once we do this activity again with our students this year.)



Reading/Discussion Idea: Worrying is Universal
Read this book to your class and whenever you come across something Wemberly worries about, have the students give a thumbs up if they have worried about it before or a thumbs
down if they haven't. Afterward, discuss Wemberly's worries and encourage children to share some of their own. Then, share the "Worry Doll" tradition that children in Guatemala use to deal with their own worries. Read more about it here. This
will help reinforce that everyone worries
and talking about it really helps!

Activities PDF: Created by the publisher
For fun handouts related to this book, click here to download a PDF created by the publisher. There's a word search, a coloring page, a mouse maze, a dot to dot, directions and cut outs for stick puppets, a 'worry list' handout, a quiz show game, and more.

Peek Inside
Here's a spread from inside this book--included here to show the illustration style and give you a general idea of the amount of text that is on the pages. These sample pages occur at the beginning of the book, when readers learn that "Wemberly worried about everything. / Big things" (with little Wemberly saying 'I wanted to make sure you were still here.') The page after this one continues the sentence with "little things, and things in between."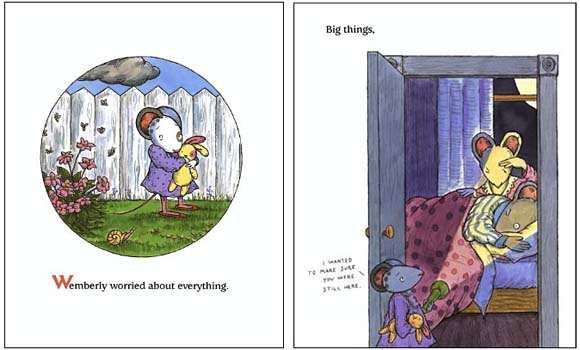 On this spread, Wemberly is shown worring all throughout the day. Nothing her parents or grandma says helps to calm her nerves (including the advice on hippy grandma's t-shirt: "Go with the flow.")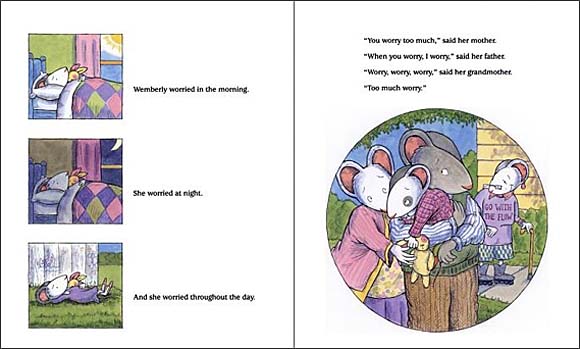 As with all Kevin Henkes books, the real charm in his illustrations comes in the small details. If you liked Chrysanthemum and her adorable red boots, you'll love cute little Wemberly as well!
Where would you like to go now?


Buy or Learn More:

Share this Page:
Click here to see the listing for
Wemberly Worried at Amazon
If you found this helpful, please share
on Facebook, Twitter, Pinterest...


See other Caldecott books:

See other Kevin Henkes books:

coming soon
recommend
If you found this site useful, please:

subscribe
Sign up for our

Email
Newsletter


to get monthly updates on
our latest book finds.
suggestions
To suggest a book
we should add,
click here