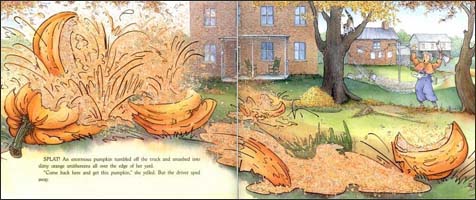 Too Many Pumpkins

by Linda White & Megan Lloyd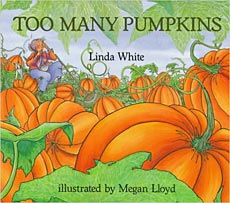 Rebecca Estelle had to eat too many pumpkins when she was growing up because her family was very poor. Now, as an adult, she hates pumpkins and never wants to see a pumpkin ever again.
Then one day, when a truck overloaded with pumpkins drives by her house and drops a pumpkin in her yard (the illustration shown above), Estelle is beside herself. 
She determines that she won't touch it, won't even look at it. She'll just cover it with dirt and never think about it again. Imagine her surprise the next fall when her yard is full with pumpkins!  What will she do?
This is a fun book to read during the autumn and is also helpful when teaching about plants and seeds to young children. And, of course, it makes for a great Halloween book.

In fact, School Library Journal ended it's review of the book by calling it "an ideal harvest/Halloween read-aloud."  And funny thing...Booklist and Kirkus ended their reviews with almost the exact same sentence! (Kirkus: "A fine harvest and Halloween story." / Booklist: "An excellent fall read-aloud.")
Reading Levels for Too Many Pumpkins

Interest Level: Kindergarten - Gr. 2        DRA Level:  20               Lexile: 770L
Grade Level Equiv: 3.9                           Guided Reading: L
See Inside Too Many Pumpkins

Below is a spread from inside the book, shown here to give you an idea of the illustration style and a rough idea of the amount of text per spread. This spread takes place immediately after Rebecca Estelle sees a pumpkin fall out of a truck and into her yard. Since she hates pumpkins, she says:

'Well, I won't touch it," Rebecca Estelle insisted, getting her shovel from the barn. / "And I won't look at it," she added as she shoveled dirt on top of the pumpkin pieces. / "I won't think about that pumpkin ever again," she declared. And she didn't, until..."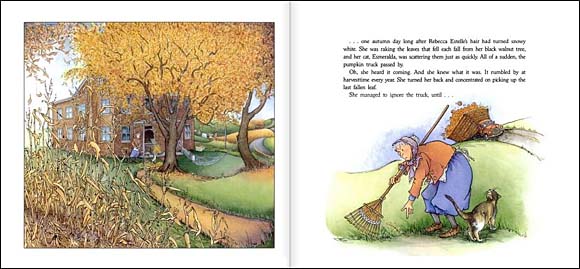 To learn more about this book, click the link below.  Please note that if you purchase an item from Amazon, they give us a small referral fee. (This helps pay for site hosting costs, thus allowing us to keep everything free for site visitors!)

---


If you are looking for a book about pumpkins, there's TON of them!  Makes sense... kids love all things Halloween, including pumpkins!  To see more pumpkin books at Amazon, click the images below or click here.


---