The Wolf Who Cried Boy
by Bob Hartman
illustrated by Tim Raglin
The Wolf Who Cried Boy
is a guaranteed hit with kids. Maybe it's hearing the story with the good and bad guys reversed, maybe it's Tim Raglin's charming and comical illustrations, or maybe it's the funny little extras, like Little Wolf's love of "boy chops and baked boy-tato." Regardless, your students will want more than one serving of this fun book.

We probably don't need to explain what it is about, since most people know the Aesop's fable "The Boy Who Cried Wolf." As you can tell by the title, this fractured Aesop's fable turns the traditional fable on its head, with an adorable, not-at-all fierce Little Wolf who 'cries boy' one too many times, and then can't get his parents to pay attention when he does actually see a boy. Very funny stuff!

Reading Stats
Interest Level: Gr. 1-3 DRA Level: n/a
Reading Level: age 4-8 Lexile Measure: 330L



Topics Covered


fractured fables (Language Arts--Genres)



Awards & Rating




Avg Customer Rating:

(13 reviews)
Peek Inside
Shown at right is a sample illustration from inside the book.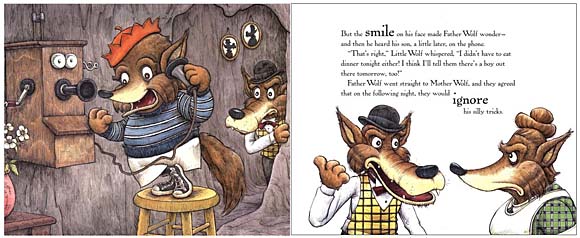 On this page, a mischievious boy scout has snuck into the wolf family's cave, plopped down on the couch, and started to eat a treat. Little Wolf can't believe his eyes and yells "There's a boy on the couch!" But, this is after he already 'cried boy' a few times, so his parents won't turn around, saying "That's enough now....You're not fooling us again...We're on to your little tricks."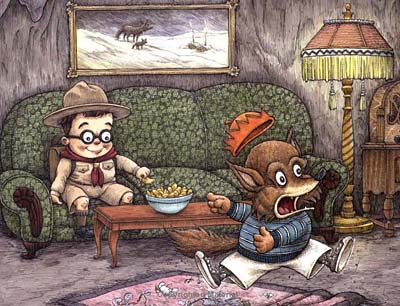 More on this book:

Share this Page:

Click to learn more or buy this book from

Amazon.com

If you found this helpful, please share
on Facebook, Twitter, Pinterest...


See other fairy tale children's books:

See Language Arts booklists: