The Wall

Growing Up Behind the Iron Curtain

by Peter Sis
A spectacular, highly illustrated auto- biographical story of what it was like to grow up under Soviet rule behind the Iron Curtain in Czechoslovakia. Created in an almost graphic novel style, Sis makes the period come alive through his own personal experiences and observations.

We can't say enough good things about this book. The Wall makes this period come alive through Sis's own personal experiences. 
This book will appeal to older students who will be able to grasp the deeper layers of meaning and appreciate "the passionate, youthful rebellions against authority." (Booklist)
This book would definitely NOT work as a read aloud, but is guaranteed to wow solo readers. But put it in your class library or recommend it to your kids so they can POUR over each detailed illustration. This book makes for a mesmerizing read any time of the year, this book would be ideal for supplementing units of 20th century world history, particularly when teaching about the Cold War era.


Awards Won
     * Caldecott Honor-- 2008
     * American Library Association Notable Children's Book 2008
     * American Library Association Best Book for Young Adults 2008
     * National Council of Teachers of English Notable Children's Book 2008
     * Boston Globe-Horn Book Award & Fanfare Award
     * National Council for Social Studies Notable Social Studies Book 2008
     * New York Times Best Illustrated Book 2007
     * American Library Association Sibert Informational Book Award 2008


Reading Levels
Interest Level: Grade 3+           DRA Level:  60                  Lexile Measure:  760L
Grade Equivalent: 4.5               Guided Reading: Y

Peek Inside
Below are selected illustrations from inside The Wall, showing the intense interest that young people behind the Iron Curtain had for western/American music, fashion, and culture.

In this first illustration of a house, people are secretly engaging in western culture and expressive works (ie: painting) in the privacy of their own homes -- plus one resident is spying on the other residents.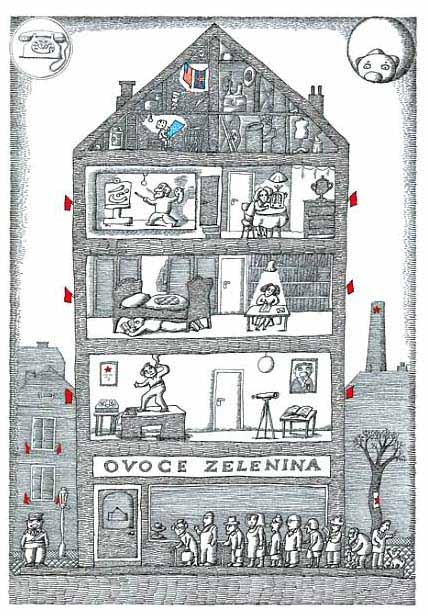 The below to illustrations are part of a larger spread that shows young people painting colorful peace murals which continually get painted over by the authorities.



And lastly, below is a visualization of the colorful, youthful dreams of the author and his friends who formed underground bands, listened to Western music, and wore western clothes...often a great risk!



To learn more about this book, click the link below.  Please note that if you purchase an item from Amazon, they give us a small referral fee. (This helps pay for site hosting costs, thus allowing us to keep everything free for site visitors!)


Lesson Ideas

Postcards from Behind the Wall
In the book, the author signs up for pen pals through a London magazine and gets many letters from prospective pen pals. Using our postcard handout (located here), have the students pretend to be the author of this book and send postcards to these new pen pals describing the circumstances of his life/his country and his feelings about the situation in general (which changes over time in the book.)

We have provided four 'postcards' to use---and even put Soviet era stamps on them.  :)  You could have the students write more postcards or fewer postcards, and/or could have them cut them out and draw something relevant on the front (like real postcards), all depending on the time available
This activity will check that the student read and understood the book, as long as you have them:

choose different periods of the author's life and write the year or his age at the top of the card

describe at least 3 key events in the country/Soviet region on each card

describe how he feels about what is happening on each card


(The pen pals' names are not in the book, so students can make up the addressee's information.)

---
You may also want to check out other amazing books by Peter Sis. To learn more, click on the images below or the link above. :)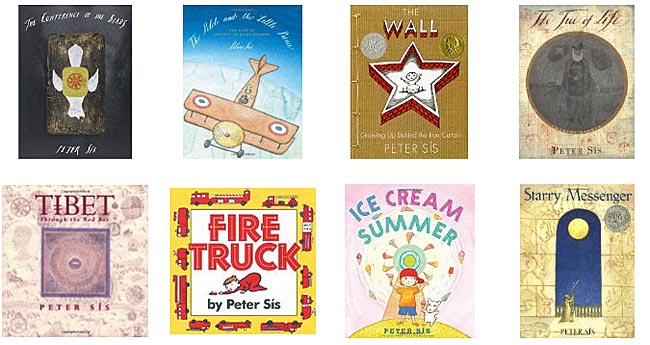 This book won the prestigious Caldecott Medal for best children's books. Check out our list of all the books that have won the Caldecott Award.