The Maestro Plays


written by Bill Martin Jr.
illustrated by Vladimir Radunsky
This playful tribute to adverbs is full of vibrant cut-paper illustrations and features a clown, "The Maestro," who plays a progression of instruments flowingly, glowingly, knowingly... "The book's mischievous type, rompish rhyme and dazzling colors will keep youngsters turning the pages... quickly, contentedly, repeatedly." (PW )
This could be a fun book to supplement your adverb lesson plans, since "Martin achieves most of his rhymes by using adverbs ending in 'ly.' Thus the musician plays at various times 'proudly,' 'loudly,' 'dizzily' or 'wildly.' An infectious rhythm builds, at times lapsing into nonsense, but resulting in an almost perfect coupling of text and illustration." (School Library Journal)

Reading Levels
Grade Level Equiv: 1.5              Lexile Measure:  320L
*Intended audience is K- 2, but it'd be good for teaching adverbs to older kids

See Inside
Here are some pages from inside the book. Vibrant, artsy illustrations. Very cool! After reviewing this book, we immediately started looking up other books illustrated by Vladimir Radunsky. What a versatile artist! His other books also feature fantastic illustrations, but in a totally different style.  We plan to add a few of his other books in the near future.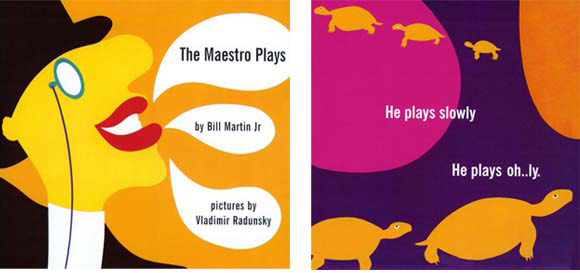 Related Lesson Ideas
After reading this book to your students, discuss other activities/hobbies and adverbs that go with it. Then have students think of their favorite hobby and create a picture of them doing that hobby and a sentence describing them doing that activity with four adverbs. For example:
     - Jennifer plays soccer quickly, expertly, excitedly, strongly
     - Zach wrestles competively, seriously, fiercely, successfully
     - Patricia cooks creatively, happily, messily, hungrily

You should have dictionaries on hand and have the students look up their chosen words if they aren't sure if it really is a word! Once everyone has completed their pages, staple them together into a book and read them to the class.


To learn more about this book, click the link below.  Please note that if you purchase an item from Amazon, they give us a small referral fee. (This helps pay for site hosting costs, thus allowing us to keep everything free for site visitors!)

---