The Lion's Share
by Matthew McElligott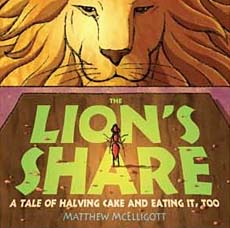 In this beautifully illustrated picture book, lion has baked a cake for his friends, but each of his greedy friends takes half the cake when it's passed to them, leaving Lion with only a crumb. Ant feels bad and offers to bake another cake.
The others hear this, and not wanting to look bad, each offers to likewise bake cakes for the lion, but they each try to outdo each other, promising twice the cakes promised by the previous guest.

Soon, hundreds of cakes are being promised and the result is quite comical.  This is one of our favorites for teaching fractions, plus it provide an early exposure to division and multiplication and also teaches about generosity verses selfishness.
In a starred review, School Library Journal said "The captivating ink and watercolor illustrations... reinforce the mathematical theme with humor and detail. Many layouts effectively present a graphic display of the simple fraction concepts. The results are terrific."

On his website, the author Matthew McElligott, provides some lesson / activity ideas to accompany using The Lion's Share in teaching.  For a full write-up of this lesson and others for this book, please visit the author's website here.


Interest Level:  K-Gr.3             Lexile Measure: 550L
See Inside

Below are sample pages from inside The Lion's Share. What a beautiful illustration of the lion in the third spread, which depicts the polite little ant is promising to bake a special cake for Lion and bring it back the next day.



To learn more about this book, click the link below.  Please note that if you purchase an item from Amazon, they give us a small referral fee. (This helps pay for site hosting costs, thus allowing us to keep everything free for site visitors!)

Or see other books on our page of best books for teaching fractions:


Or see other books on our page of best books for teaching multiplication: