Tomie' DePaola's


The Legend of the
Poinsettia

summary, lesson and
activity ideas, a peek
inside, and more
The Legend of the Poinsettia

is part of a series of legend adaptations
by the incomparable author/illustrator Tomie dePaola. Set in a small village in Mexico, this title retells a traditional folktale from Mexico
about how the poinsettia came to be associated with Christmas.

To buy this
book from
Amazon, click here


Story summary:
When Lucida's mother is asked to make a new blanket for the Baby Jesus in the Christmas procession, the family is honored. Lucida and her mother set about buying the yarn, dying it, and weaving the blanket, but before they are able to finish, Lucida's mother falls ill. Lucida tries to weave it herself, but the yarn gets so tangled that she's unable to finish it.

Sad that her family will have no gift for Baby Jesus, Lucida hides and watches the procession from a distance. Suddenly, an old woman appears and informs her not only that
her mother will recover, but that it's okay that she doesn't have a special gift. "Any gift is beautiful because it is
given." Lucida then picks a tangle of weeds and heads to the church. Others in the church whisper as she presents the weeds, but the the crowd gasps as the tangle of weeds turns into beautiful red flowers in the shape of stars. And when the crowd files outside, all the weeds in the countryside have changed to beautiful poinsettias.
The Legend of the Poinsettia



Reading Stats
Interest Level: Kindergarten-Grade 2
Reading Level: age 4-8
D.R.A. Level: Level 38
Lexile Measure: Level AD840L

Topics Covered


Christmas traditions

Folktales (Lang Arts)


Books set in Mexico (Geography)



Awards & Rating




Avg Customer Rating:

(15 reviews)



Other Series Books


Once you've seen this charming picture book, you will probably be eager to see DePaola's other picture book legend adaptations. To see those we've reviewed so far, click the following links:


The Legend of the Indian Paintbrush

or The Legend of Bluebonnet.



Peek Inside
Below is the bottom part of the first spread, with Tomie dePaola's trademark adorable illustrations. This spread introduces the main character, Lucida, who lives with her family in a small village high in the mountains in Mexico. In this spread, she is feeding the family burro, Pepito.




And this spread shows little Lucida carrying the tangle of weeds into the church to place around the stable as a gift for the baby Jesus. As she does so, onlookers watch in amusement.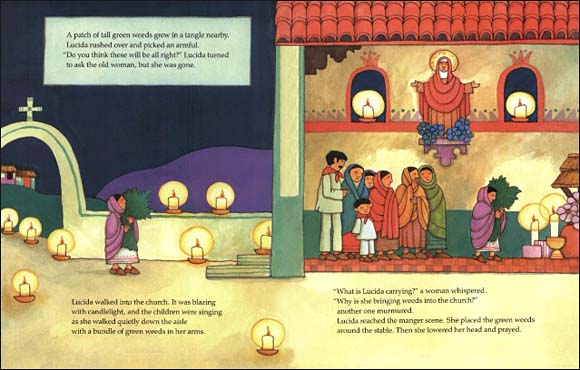 Teachers


This book obviously has a religious component, and may or may not be appropriate for certain schools. We know that each teacher can best determine appropriateness for his or her own classroom, so we just thought we'd bring it to your attention and let you decide.


An author's note on the last page of the book provides additional information about the legend, about poinsettias, and about how the flower found its way to the United States with a minister named Dr. Joel Roberts Poinsett. If you are looking for related activities and lesson ideas to go with this book, please click here:

The Legend of the Poinsettia

lesson ideas, etc




Buy or Learn More

See other books about folk tales:

Click the link to see the listing
for this book on

Amazon.com
recommend
If you found this site useful, please:

subscribe
Sign up for our

Email
Newsletter


to get monthly updates on
our latest book finds.
suggestions
To suggest a book
we should add,
click here