The Legend of
the Indian Paintbrush
by Tomie dePaola

summary, lesson/activity ideas,
a peek inside, and more
The Legend of the Indian Paintbrush

retells an old Texas legend of how
the beautiful Indian Paintbrush flower came into existence.In the story,
a small Native American boy named Little Gopher worries because he
is smaller than other boys and unable to run, shoot, and ride with them.
To buy this
book from
Amazon, click here
But a wise shaman tells him not to worry; he has his own talents.



A few years later, when Little Gopher is on a hill thinking about becoming a man, he has a Dream-Vision in which an old man and a young maiden tell him that he is to record the events of his tribe so that people will remember them forever. They show him the tools he is to use and directs him to find them in preparation for the day that he would "paint a picture that is as pure as the colors in the evening sky."

He immediately set about looking for and making the materials he needed,

and then started to paint pictures of great hunts and great
deeds, but he could never find the
vibrant paint colors he needed to paint a beautiful, bright sunset.
Finally one night, he heard a voice telling him that tomorrow would be the day he could paint the evening sky and that the paints would be provided for him. When he went to his special painting spot, he found brushes filled with paints sticking out of the ground (and in the illustration, looking quite a bit like flowers.) With those brushes, he painted a beautiful sunset painting. The next morning, the people awoke to find the countryside covered with color. The paint brushes had taken root and turned into yellow, red and orange flowers. The people rejoiced when the flowers arrived each spring, and Little Gopher was thenceforth called He-Who-Brought-the-Sunset-to-the-Earth.
The Legend of the Indian Paintbrush



Reading Stats
Interest Level: K-Gr. 2
Reading Level: age 4-8
D.R.A. Level: Level 38
Lexile Measure: AD840L



Topics Covered


Native American cultures (Geog/History)
Folktakes (Language Arts---Genres)



Awards & Rating




Avg Customer Rating:

(14 reviews)
Teachers
If you are looking for related activities or lesson ideas to accompany this book, please click here:

The Legend of the Indian Paintbrush

lesson ideas, etc An author's note at the end of the book provides additional details on the Indian Paintbrush flower, the legend that surrounds it, and Mr. DePaola's process for adapting it in this book.



Peek Inside


Below are sample pages from inside this book. Vintage Tomie DePaola. Adorable!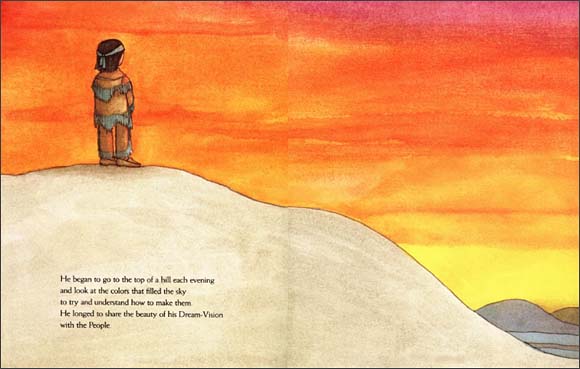 Fans of Tomie dePaola will love this book. It's full of charming illustrations, likeable characters, and a moving storyline. This is vintage dePaola.
Buy or Learn More:

Share this Page:
Click to see the listing for this
book on

Amazon.com

If you found this helpful, please share
on Facebook, Twitter, Pinterest...


See other books about folk tales:

See other Tomie dePaola books: