Superhero ABC

by Bob McLeod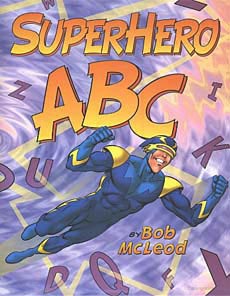 This book will certainly not gather any dust on your home or classroom library shelf! These are superheroes like you've never seen them before. :)

Some of McLeod's superheroes are noble and heroic, like Astro-Man, who is 'Always Alert for An Alien Attack despite his Asthma.' Some, however, are silly and even a touch crude, like Odor Officer, who 'monitors playground farts', or the Volcano, who 'Vomits on Villains'.


In the end, it makes for one funny and clever alphabet book that is definitely a must have for all classrooms! 
And even though it's organized in ABC format, this is NOT just a book for little kids learning the alphabet. Boys and girls of all ages, even adults, will get a kick out of these clever superheroes, especially what they can and cannot do.  In fact, this book might appeal more to older kids, whose larger vocabulary will mean more of the superstar attributes will make sense.

Teachers, take note: School Library Journal predicts that "imaginative readers might be inspired to imagine their own alphabetical creations to add to the ranks of Goo Girl, Huge Man, and Multiplying Mike." Such a fun idea! :) 
On School Library Journal's "Best Book of the Year" List!
Reading Levels for Superhero ABC
Interest Level:    K-Gr. 4                DRA Level:    40
Grade Equivalent:   2.3                Guided Reading:    Q


Sample pages
Here are sample pages showing the creative, interesting, funny superheroes in this book. Your children will pour over every single page and illustration, read every little side comment, and marvel at the alliterative creativity!  Talk about thinking outside the box. :)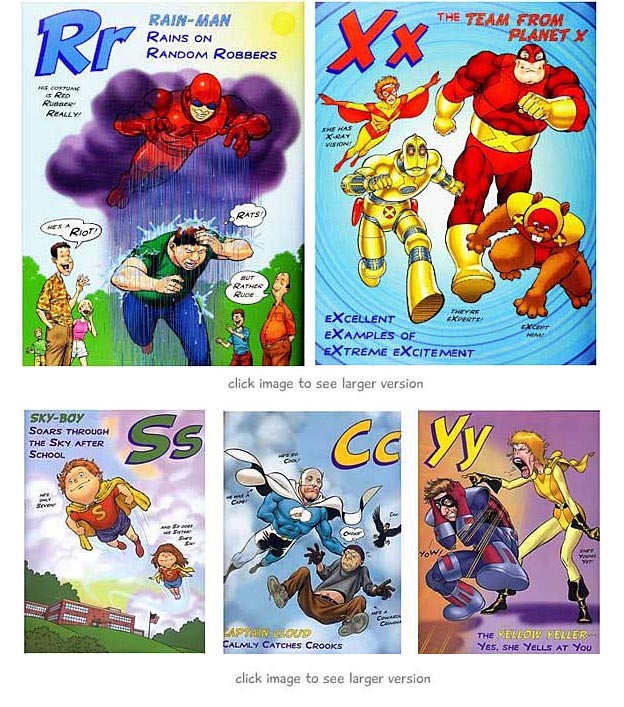 To learn more about this book, click the link below.  Please note that if you purchase an item from Amazon, they give us a small referral fee. (This helps pay for site hosting costs, thus allowing us to keep everything free for site visitors!)

---