Subtraction Action
by Loreen Leedy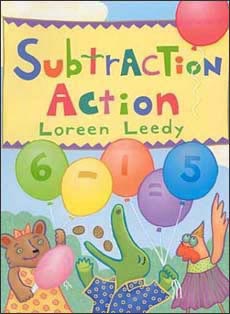 Miss Prime is back, this time teaching basic subtraction, including the definition of 'difference', how to write an equation, regrouping, and more. A trip to the school fair then provides fun practical applications. It's "a zany book that is sure to make a difference!" (School Library Journal)

This book is a solid choice for your classroom library or for small group work--for students have some familiarity with subtraction (the pages are too busy for early introductions).  

The format makes it difficult to use this book as a read aloud, unless you have a document camera to project the images on a screen or you can bring your students in quite close.
Reading Levels

Interest Level: Kindergarten-Grade 2
Guided Reading Level:  K
DRA Level: 18
Lexile Measure: 440L
See Inside

Here are sample spreads from inside Subtraction Action, illustrated and laid out in Leedy's trademark style. As you can see, the pages are in comic book style, with a lot happening on each page. If you use this as a read aloud, it'd also be helpful to put it in your classroom library so students can pick up all the small details they perhaps couldn't see when you read it aloud.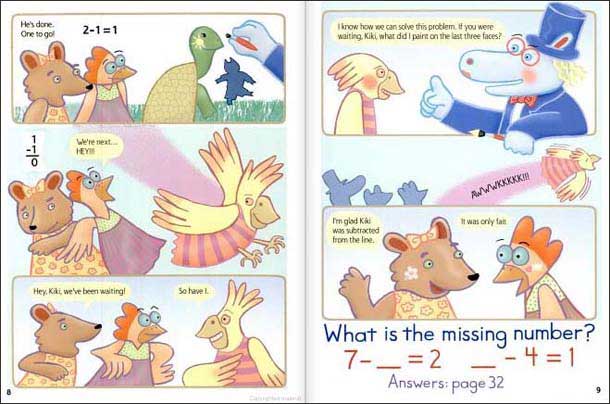 To learn more about this book, click the link below.  Please note that if you purchase an item from Amazon, they give us a small referral fee. (This helps pay for site hosting costs, thus allowing us to keep everything free for site visitors!)

You may also want to check out other books by Loreen Leedy. To learn more, click on the images below or or the link above. :)