Shape by Shape

by Suse MacDonald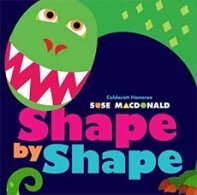 This cute book of shapes would be more effective if the cover didn't give away the punchline. The reader is asked "Do you know who I am?, followed by different shaped cut-outs that slowly, spread by spread, reveal parts of the 'mystery beast.' 
The last spread (with a fold out) shows the entire dinosaur-- "an appealingly rounded creature made up of all the various shapes, with the addition of a big red heart" (Bklst).
HINT: If you're going to read this book to your class or children, preserve the mystery element (what creature is being unveiled) by hiding the cover of the book!


Peek Inside
Below are sample pages from inside this book.  Simple but cute, and fun to add an element of mystery into teaching shapes.


To learn more about this book, click the link below.  Please note that if you purchase an item from Amazon, they give us a small referral fee. (This helps pay for site hosting costs, thus allowing us to keep everything free for site visitors!)

---