Rosa
by Nikki Giovanni & Bryan Collier

Rosa by Nikki Giovanni is a stand-out children's book that provides "a handsome and thought-provoking introduction" (School Library Journal) to Rosa Parks's role in the Civil Rights Movement.
Full of stunning collage illustrations by Bryan Collier, this middle grades book starts with Park's life as a seamstress, then moves to her famous refusal to relinquish her seat on the bus. From there the story progresses to other key events and people in the movement.
We mostly like this book because of Bryan Collier's interesting collage illustrations, which are a mixture of watercolor and collage and so uniquely executed.

That's not to say we don't like the text and storyline, however. We agree with Booklist, who said in a starred review that teachers will appreciate that "history comes clear in the astonishing combination of the personal and the political."  This book would be a perfect choice to use when teaching about the civil rights movement, courage, American heroes, or even on Rosa Parks Day.


Reading Levels for Rosa
by Nikki Giovanni:
Interest Level: Gr. 3-5                DRA Level:  50                Lexile Measure:  900L
Grade Equivalent: 5.1               Guided Reading:  T


Awards Won by Rosa:

     * Caldecott Honor Book 2006
     * American Library Association Notable Children's Book 2006
     * American Library Association Coretta Scott King Award 2006


See Inside Rosa:

Below are sample pages from inside Rosa by Nikki Giovanni & Bryan Collier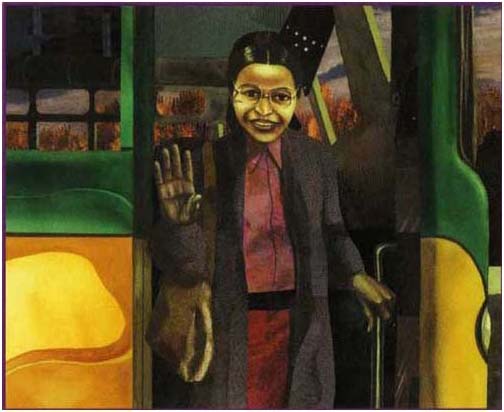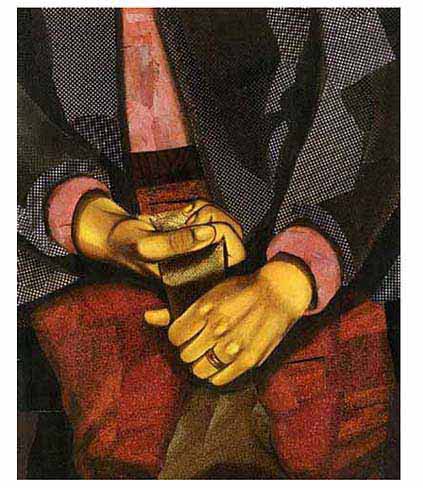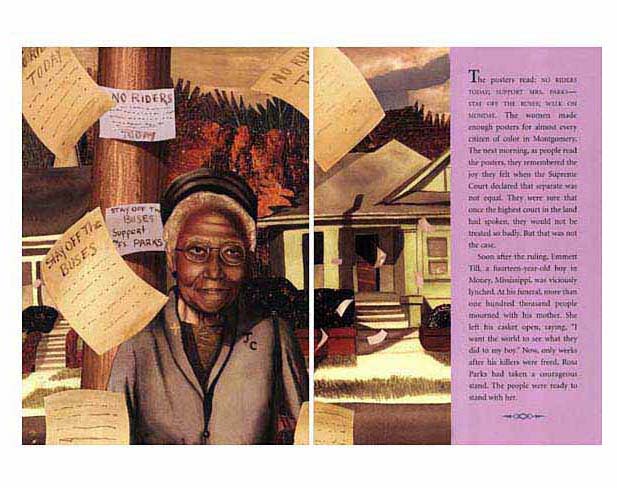 To learn more about this book, click the link below.  Please note that if you purchase an item from Amazon, they give us a small referral fee. (This helps pay for site hosting costs, thus allowing us to keep everything free for site visitors!)

---

This is a great book, but if it's not exactly the book you are looking for, you can see:
You may also want to check out other books illustrated by Bryan Collier

---