Pig, Pigger, Piggest

by Rick Walton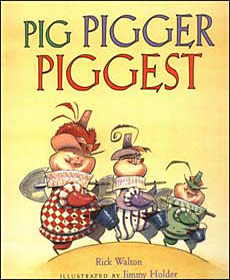 Pig, Pigger, Piggest
by Rick Walton
illustrated by Jimmy Holder
A retelling of The Three Little Pigs, but this time the three big pigs (called Pig, Pigger, and Piggest) build three correspondingly sized castles which are then destroyed by Witch, Witcher, and Witchest.
In their review, Publisher's Weekly said that while this book is "perhaps not the funniest, it's funnier than many; and definitely a funny book." Funny, and true. :)
This book was clearly specifically written to teach comparative and superlative adjectives (all Walton's books seem to have a direct teaching purpose), but it's actually a pretty funny book regardless of the grammar lesson. We wouldn't necessarily buy it for the storyline alone, but if you are teaching superlatives, it's a fun addition to your unit.


Reading Levels
Interest Level: Gr. 1-2         Grade Equivalent:  2.9             Lexile Measure: 520L


See Inside

To learn more about this book, click the link below.  Please note that if you purchase an item from Amazon, they give us a small referral fee. (This helps pay for site hosting costs, thus allowing us to keep everything free for site visitors!)

---