Piece = Part = Portion
Fractions = Decimals = Percents

by Scott Gifford
illustrated by Shmuel Thaler
If you're looking for photographic representations of fractions, decimals, and percents, this book by Scott Gifford (an elementary school teacher) is a fantastic place to start!!!

Double page spreads provide photographic examples showing how fractions, decimals, and percents are simply different ways to say the same things (ie: a photo showing one remaining can in a six pack is shown for 1/6th, .166, and/or 16.6% of cans).
This is a crucial math concept for kids to understand and internalize, and this book can really help.  In their review, School Library Journal said: "The striking photography in this book will not only whet an occasional appetite, but also satisfy the need for a visual treatment of the topic."


Reading Levels
Interest Level: Gr. 3-5            DRA Level: 24           Guided Reading: M


Peek Inside
Below are two sample pages from inside this helpful book. The sample page at right is actually the first page of the book and it's fairly typical of the style in the books---although on the remaining pages, the picture is on the right hand side and the fraction, decimal, and percent is on the facing, left hand side page--just as in the pizza spread below.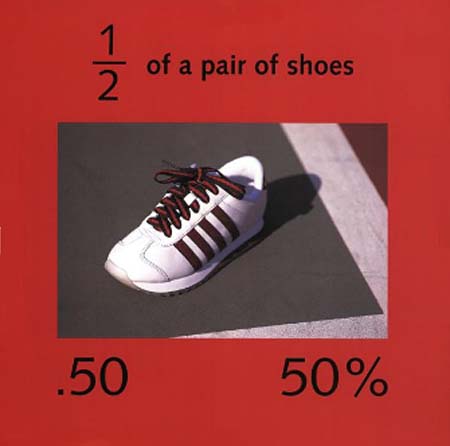 To learn more about this book, click the link below.  Please note that if you purchase an item from Amazon, they give us a small referral fee. (This helps pay for site hosting costs, thus allowing us to keep everything free for site visitors!)