Ox-Cart Man
by Donald Hall; illustrated by Barbara Cooney
An 18th century rural family uses an ox-cart to carry products to the market, where they sell them to make money for what they need to buy. Cooney's charming folk art illustrations depict seasonal changes and early American rural life, making this a nice title to use when talking to young children about early American history.
Reading Stats
Interest Level: PreS-Gr.3 DRA Level: 24
Reading Level: age 4-8 Lexile Measure: AD1130L



Topics Covered


life in the 19th century (rural New England)



Awards & Rating


Caldecott Award Books -- Medal Winner
Avg Customer Rating: (34 reviews)
Peek Inside
Below are sample spreads from inside Ox-Cart Man. We love the folk art style illustrations! Very fitting for the topic. This first sample spread should give you an idea of how much text is on each page.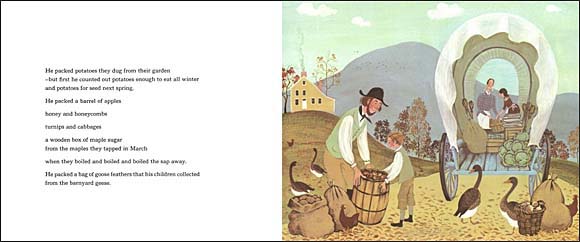 More on this book:

Share this Page:
Click for the Amazon.com
listing for

Ox-Cart Man

If you found this helpful, please share
on Facebook, Twitter, Pinterest...


See books about colonial America:

See lists of other Caldecott books: