One Cent, Two Cents, Old Cent, New Cent: All About Money

by Bonnie Worth
illustrated by Aristides Ruiz

If your students are learning money this year and you'd like to add a little 'big picture' context to your lessons, this is a great place to start.
This title provides an age-appropriate introduction to the history of money, from bartering to modern money, plus talks about how coins are made, what banks are for, etc... all in trademark Seussian style, with fun rhymes, zany illustrations, and the Cat in the Hat as the 'guide.'
We celebrate Dr. Seuss's birthday every year (like most classrooms) and this Cat in the Hat Learning Library book is a fun way to keep the celebrations going and add in some math as well!


Reading Levels
Interest Level:  Kindergarten - 2nd grade           Lexile Measure: 680L


See inside
Below are sample spreads from the beginning of the book: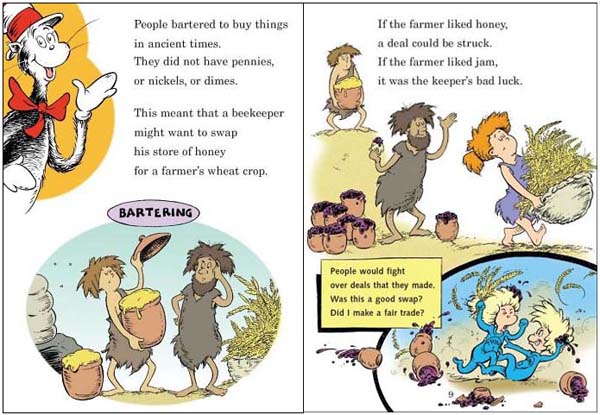 To learn more about this book, click the link below.  Please note that if you purchase an item from Amazon, they give us a small referral fee. (This helps pay for site hosting costs, thus allowing us to keep everything free for site visitors!)

---
We really like The Cat in the Hat Learning Library series. Kids think they are fun and learn so much from them! You may also want to check out other books in the series! To learn more, click on the book covers below or the link above. :)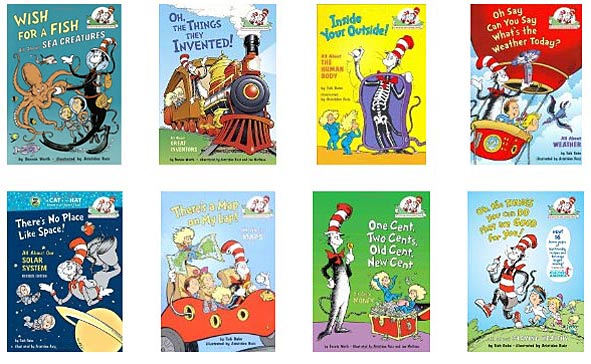 ---