Olive, My Love
by Vivian Walsh; ill. by J. Otto Seibold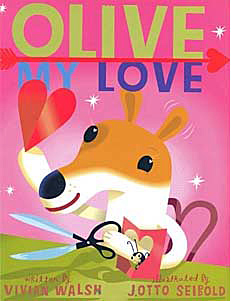 Little Olive is off on another holiday-themed mission, this time to return a large heart she believes was accidentally left behind by its owner. With the help of a spider and a squirrel, she tracks down the 'owner', only to find out that the heart was meant for her after all!
We adore Olive the Other Reindeer, so we were eager to get our hands on this sequel...and, well, it's not quite as good as the first title but it's still a lot of fun. Perhaps we had too high of expectations. :) Siebold's illustrations are as quirky and fun as in the original, and little Olive is equally endearing.
Where this book misses the mark a bit is in the length of the text (even longer than in the other book!) and the storyline, which isn't as focused as you'd want it to be for a kids book. Regardless, this is a fun book to read around Valentine's Day, especially if your children have already 'met' Olive at Christmas time. The book isn't specifically about Valentine's Day, but the message of loving others makes it a good fit nonetheless.

Interest Level:  Pres-Gr. 3
Grade Level Equiv: 2.9
Guided Reading: K
DRA Level: 18
Lexile Measure: 410L


Below are sample spreads from inside this book.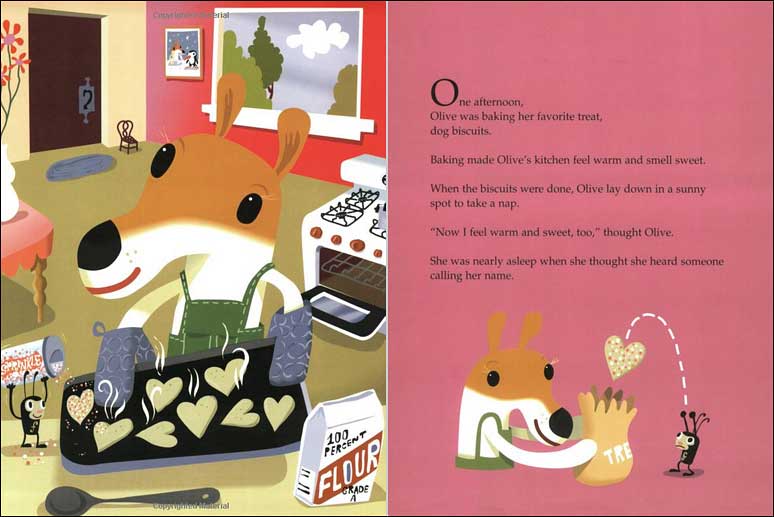 To learn more about this book, click the link below.  Please note that if you purchase an item from Amazon, they give us a small referral fee. (This helps pay for site hosting costs, thus allowing us to keep everything free for site visitors!)

---