My Best Friend is as
Sharp as a Pencil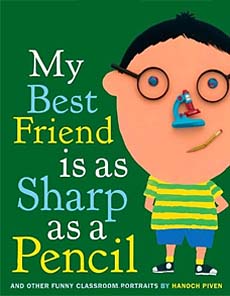 My Best Friend is as Sharp as a Pencil and Other Funny Classroom Portraits 
by Hanoch Piven
A young girl's grandmother is in town and asks her granddaughter so many questions about the people in her life (her teachers, her best friends, her classmates) that the artistic little girl decides to answer her grandma's questions by making portraits of the people using a pile of small objects she has collected.


The following pages show portraits of her teacher, her friends, and others, each with different objects that describe the person via a simile (ie: she says that Jack is "as precise as a microscope", and then in her portrait of Jack, his nose is a small microscope.) 
The pairing of similes and object art is so clever and humorous, we guarantee that you will have your students' undivided attention throughout the read aloud!  Perfect for teaching similes.


Interest Level     2nd grade - 6th grade


See inside
At right is a sample spread from inside the super clever book. As you can see, on the left side of the spread, the small objects are shown next to their related similes (ie:  "She can be as funny as a clown" is shown next to the clown nose.) Then, on the right, the full portrait is shown. So fun!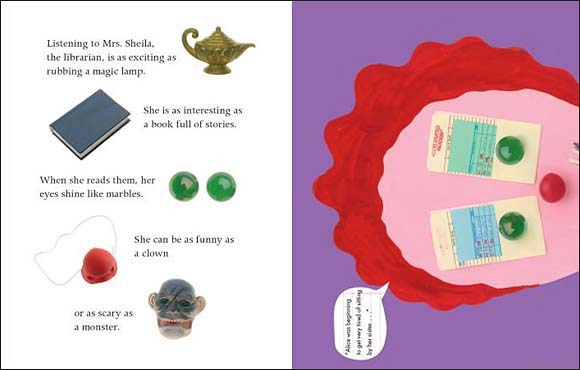 To learn more about this book, click the link below.  Please note that if you purchase an item from Amazon, they give us a small referral fee. (This helps pay for site hosting costs, thus allowing us to keep everything free for site visitors!)



Lesson Idea:  Simile Portrait Drawings
These books are so full of similes, why not extend the similes lesson by having students DRAW a similes portrait of someone they know. Why have them draw it instead of using small objects? If they are drawing the portrait, they can create similes with any words that best fit. If, on the other hand, you have them create the portraits with some object you provide, they will be forced to come up with similes for particular objects, whether or not they fit the person well, just in order to use the item. If you are teaching similes, you want the similes to drive the activity, not the art, so...that's why we suggest the students draw the portrait.
1     Have them create the portrait in the same style as in the book (ie...drawing little globes for eyes).
2     Once it is drawn, have students write the similes in the space around the portrait, and then draw lines from the similes to the related objects.
3     Tell the students that their portrait must have # similes depicted. (The number is up to you, depending in the time available and your students' level.)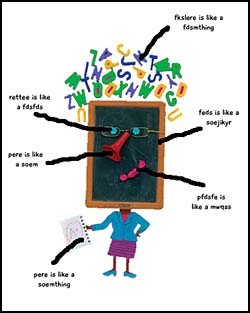 We've used a portrait from the book to show what we mean about having the similes and portrait items connected by lines. But again, the portrait should be drawn, not using objects because that'd be super hard to prep for, right? :)

To learn more about this book, click the link below.  Please note that if you purchase an item from Amazon, they give us a small referral fee. (This helps pay for site hosting costs, thus allowing us to keep everything free for site visitors!)

---