My America Series

My America is a children's historical fiction series focusing on seven characters-- in three books each. Historical periods include: the Civil War, Jamestown, slavery, the American Revolution, Westward Expansion, and the Underground Railroad. Below are all of the books in the series. Teachers--These books are appropriate for 2nd through 5th grade.


Joshua's Oregon Trail Diary  by Patricia Hermes

Interest Level:  Gr. 2-5
Grade Equivalent: 3.1
Lexile Measure: 320L
DRA Level:  34
Guided Reading: O

Set in 1848, this My America series is great for supplementing Oregon Trail history units. It takes the form of a "historically accurate and compelling" (SLJ) diary written by a nine-year-old boy named Joshua.

Book 1: Westward to Home
At first Joshua was excited about the adventure of the Oregon Trail, but he learned soon enough it's also hard work.

Book 2: A Perfect Place
Joshua's family has arrived safely in Oregon's Willamette Valley, where they begin their new life and build their homestead. Sadly, the family loses their beloved grandfather.

Book 3: The Wild Year
Joshua's diary continues, including school, the safe return of his sister, and the prospect of adding two orphans to the family.


---
Sofia's Immigrant Diary  by Kathryn Lasky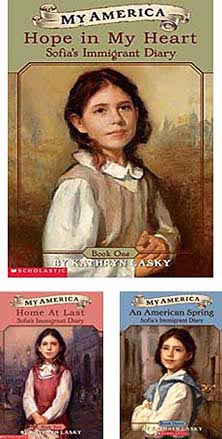 Interest Level:  Gr. 3-5
Grade Equivalent:  3.5
Lexile Measure: 630L
DRA Level:  38
Guided Reading:  P

The My America series is virtually always a hit with kids, and these three books will definitely fit the bill. They tell the story of young Sofia and her Italian family, who have recently immigrated to America.
Book 1: Hope in My Heart
Finally at Ellis Island, Sofia is separated from her family and put under quarantine! She is scared but at least she has a new friend.

Book 2: Home at Last
Sofia describes the struggles her family and other immigrants are facing, but also describes the helped of a kind teacher and doctor.

Book 3: An American Spring
Sofia continues her journal, writing about her best friend coming to live with them and the new store her parents are opening.

---
Virginia's Civil War Diary  by Mary Pope Osborne

Interest Level:  Gr. 3-5
Grade Equivalent: 3.1 
Lexile Measure: 590L
DRA Level: 38 
Guided Reading: P

Nine-year-old Virginia lives in 1863 Gettysburg, when the Civil War's bloodiest battle takes place. She records her observations in her journal.
Book 1: My Brother's Keeper
Virginia writes about the bloody battle at Gettysburg as well as seeing President.

Book 2: After the Rain
The war is finally over and Virginia's father has just gotten a new job, but then tragedy strikes.

Book 3: A Time to Dance
The war has finally ended and the family moves to New York City to start their new life there.
---
Corey's Underground Railroad Diary  by Sharon Dennis Wyeth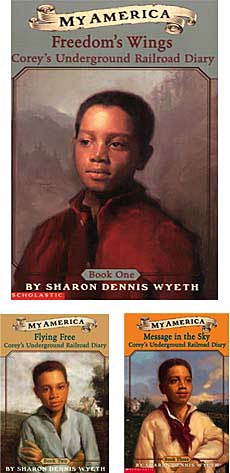 Interest Level:  Gr. 2-5
Grade Equivalent: 3.2 
Lexile Measure: 350L
DRA Level: 40 
Guided Reading: Q

Unlike most other slaves, nine year old Corey knows how to read and write, having been taught by his father. He keeps a journal about his life as a slave as well as his dramatic escape to freedom.

Book 1: Freedom's Wings
It's 1857 and Corey writes about his life as a slave and his dangerous and daring escape.  

Book 2: Flying Free
In Canada, Corey's family build a new life and Corey even helps someone else achieve freedom too!

Book 3: Message in the Sky
Corey unexpectedly finds himself working on the Underground Railroad.
---
Meg's Prairie Diary  by Kate McMullan

Interest Level:  Gr. 3-5
Grade Equivalent:  3.2
Lexile Measure:  470L
DRA Level:  38
Guided Reading: P

When an outbreak of cholera ravages their city and  infects their mother and sister, Meg and her brother are sent to live with relatives. She records these new experiences in her journal.

Book 1: As Far As I Can See
Meg and her brother travel to Kansas to live in the prairie home of their relatives.

Book 2: The End of the Earth / For This Land
Meg's family members have recovered and finally the family is reunited. But new struggles abound!

Book 3: A Fine Start
This final book in the series records Meg and her family continuing life on the Kansas prairie.
---
Elizabeth's Jamestown Colony Diary  by Patricia Hermes

Interest Level:  Gr. 2-5
Grade Equivalent:  3.1
Lexile Measure: 350L
DRA Level:  38
Guided Reading: P

A well written window into early life in Jamestown, as seen through the eyes of a feisty but brave young girl named Elizabeth (aka Lizzie). Includes key figures in the Jamestown settlement, like Captain John Smith and Pocahontas.

Book 1: Our Strange New Land
Elizabeth and her family adjust to life in Jamestown, and she meets Captain Smith, Pocahontas, Archer, and Percy.

Book 2: The Starving Time
Starvation and disease are rampant in the settlement, killing many settlers. Elizabeth records this difficult time in her journal.

Book 3: Season of Promise
Finally the settlement has enough food to eat, but the new leader is cruel and Lizzie's feisty behavior gets her into trouble again.
---
Hope's Revolutionary War Diary  by Kristiana Gregory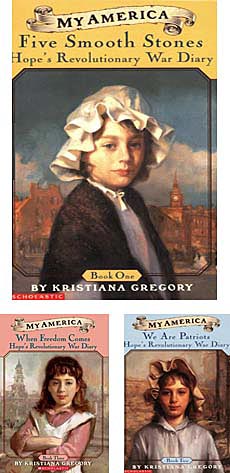 Interest Level:  Gr. 3-5
Grade Equivalent: 3.9
Lexile Measure: 610L
DRA Level:  38
Guided Reading: P

Hope lives in Philadelphia in 1776, and in her journal she records her observations and feelings, as well as historical details of life at the time.

Book 1: Five Smooth Stones
Hope is worried about her Patriot father. The Revolutionary War has broken out. Is he safe?

Book 2: We Are Patriots
Hope's family has new house guests--Washington's troops! They're fighting the Redcoats and move into Hope's family's home.

Book 3: When Freedom Comes  
Will this new country make it through these first tumultuous years? The mood is hopeful but guarded.
To learn more about this book, click the link below.  Please note that if you purchase an item from Amazon, they give us a small referral fee. (This helps pay for site hosting costs, thus allowing us to keep everything free for site visitors!)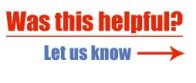 We LOVE getting likes!  It makes us want to keep making these lists!  :) Please press LIKE if you found this information helpful. And help us spread the word by sharing the page.


Or Pin this page to your Pinterest board to share it and remember it for later. :)


---