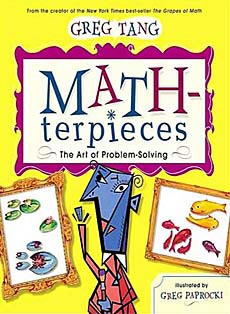 Math-terpieces
The Art of Problem Solving
written by Greg Tang
illustrated by Greg Paprocki
In this creative mix of art and math, Tang uses 12 famous works of art to help kids see the benefits of grouping. Each spread features a painting from a famous artist and a poem that poses a related math problem.
For example, Degas' Dance Rehearsal is shown next to a page showing a number of ballet shoes. Readers are asked to find the sum by grouping by seven first ("Can you make 7 with these shoes? / Three clever ways earn rave reviews.")
Through the illustrations, readers can see that there are three distinct ways to logically, quickly group the shoes, rather than simple counting them one by one.


Reading Levels

Interest Level:  Grade 2-5
Grade Equivalent: 3.1
DRA Level: 20
Guided Reading: L 

See Inside

Here are spreads from inside this book.  Each spread presents a famous work of art, with a facing page showing some element from the masterpiece. The text then poses a number sense, addition or subtraction problem to solve.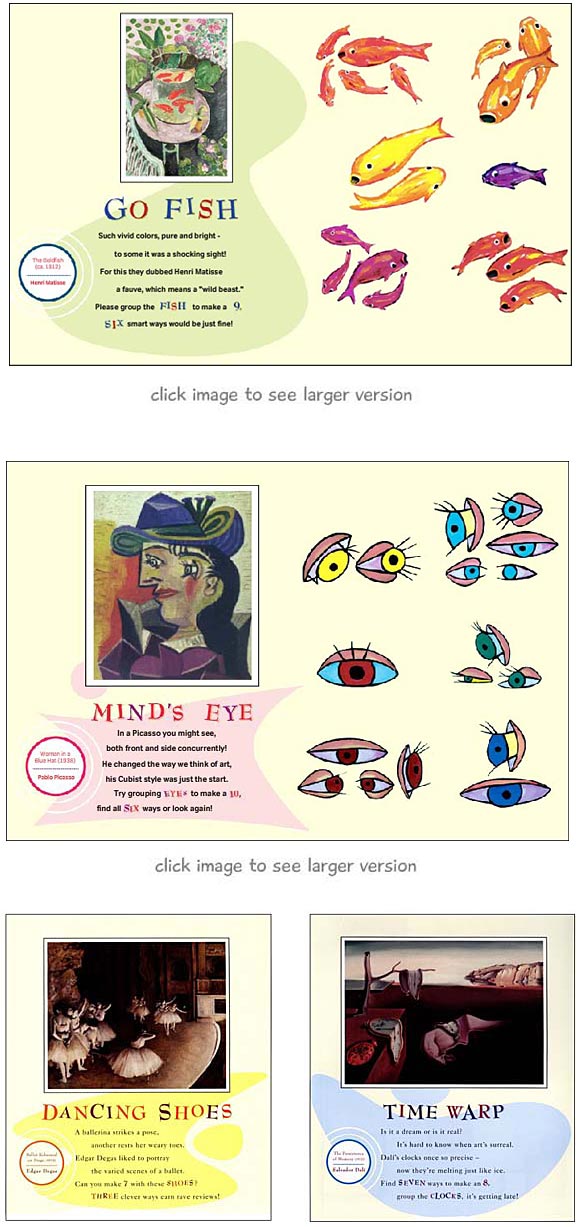 To learn more about this book, click the link below.  Please note that if you purchase an item from Amazon, they give us a small referral fee. (This helps pay for site hosting costs, thus allowing us to keep everything free for site visitors!)

You probably want to check out more Greg Tang math books, because they are pretty great for teaching various math concepts! To learn more, click on the book covers or the link above.