Love, Ruby Valentine and

Ruby Valentines Saves the Day
by Laurie Friedman; illustrated by Lynn Cravath

Love, Ruby Valentine
After their tireless preparations for the upcoming Valentine's Day, little Ruby and her pet cockatoo accidently sleep in and almost miss the day entirely! As they rush to deliver their Valentines around town, they soon realize that they don't have to wait for Valentine's Day to tell people how much they care! 

School Library Journal ended its review of this book by saying, "This story, told in rhyme, should take a prominent place on Valentine's Day bookshelves." Agree!



Ruby Valentine Saves the Day
Ruby and her pet cockatoo are back and this time they're planning an elaborate Valentine's Day party. But, when the big day arrives, a snowstorm blows in and none of the guests can make it up the hill to attend the party. Can Ruby come up with a solution?

We love the moral of the story--that time spent together is more important than gifts and trinkets--and Cravath's illustrations are truly adorable!
Reading Levels

Interest Level:  Kindergarten-Gr. 3            Lexile: 540L                Grade Equiv: 2.2
See Inside These Books

Below are sample spreads from inside both books.  To see larger versions of these spreads, simply click on the images.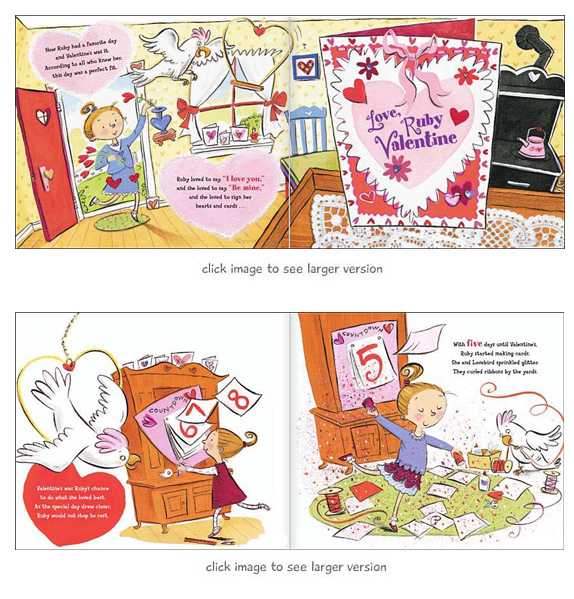 To learn more about this book, click the link below.  Please note that if you purchase an item from Amazon, they give us a small referral fee. (This helps pay for site hosting costs, thus allowing us to keep everything free for site visitors!)

---