Kites Sail High:

A Book About Verbs 
by Ruth Heller
This book covers a lot of ground, starting with defining verbs and then moving into active and passive verbs, verb phrases... In our opinion it covers way too much ground, starting very simply and ending with advanced verb concepts that will surely "sail" over the heads of kids.

Because of this, we don't personally use this book in our classrooms, but fans of Ruth Heller will surely want to know this book in the World of Language series exists.


Interest level:  Gr. 1-6         Grade Equivalent:  3.9          Lexile Measure: 600L


See inside
Below are sample pages from inside Kites Sail High: A Book About Verbs:


To learn more about this book, click the link below.  Please note that if you purchase an item from Amazon, they give us a small referral fee. (This helps pay for site hosting costs, thus allowing us to keep everything free for site visitors!)

---
You may also want to check out other books in Ruth Heller's World of Language series. Most are several decades old (1990s-ish) but they stand the test of time. Each one is full of large, vibrant illustrations and has text focused on teaching one particular language arts topic. To learn more, click the images below or link above.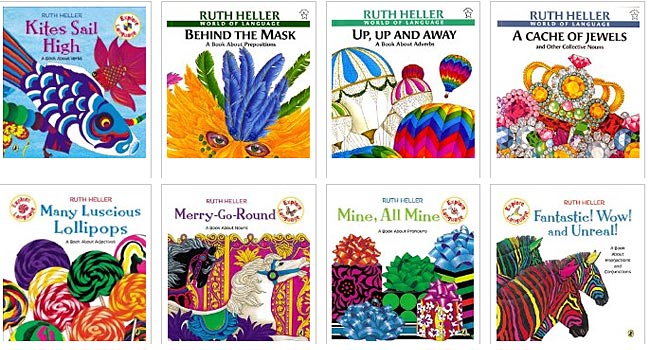 ---