Jump, Kangaroo, Jump
(Math Start series)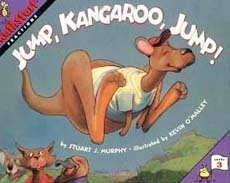 by Stuart Murphy
illustrated by Kevin O'Malley
It's school Field Day, so Kangaroo and friends divide into teams to play various games--3 teams of 4 for relay races, 2 teams of 6 for tug of war, 4 teams of 3 for a canoe race.

Teachers will appreciate that the fractions involved in each scenario are shown in both the pictures and in numeral.
This is an "accessible and fun" (School Library Journal) title for children learning fractions, but it wouldn't be our top pick in this category because there actually aren't very many fraction problems incorporated into the story. Having said that, we do like that this title includes a section at the end (as with all Math Start books) with suggestions for enhancing student learning.


Reading Levels
Interest Level: Gr. 2-4              DRA Level: 18               Lexile Measure: 380L
Grade Level Equiv: 1.9          Guided Reading:  J


Peek Inside
Here's the first spread of the book, showing illustrator Kevin O'Malley's illustration style. And here is a page that shows how math is used to describe how teams are divided up for different field day activities (in this case, a tug of war).  There isn't a lot of math in this story. In fact, there are only three such pages in this book.  It's still a cute, fun story, but not very heavy on the math.





To learn more about this book, click the link below.  Please note that if you purchase an item from Amazon, they give us a small referral fee. (This helps pay for site hosting costs, thus allowing us to keep everything free for site visitors!)

---
This book is one of the MathStart series books. We LOVE the MathStart series. The stories are funny and cute...and SO effective for teaching the specific math concept being targeted. You can learn more about this great series of books by clicking on the book covers below or the link above.