Interrupting Chicken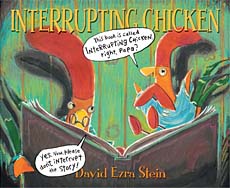 by David Ezra Stein
In the story, it's bedtime, and rooster papa is trying to read fairy tales to his daughter, but the sweet little chicken can't stop interrupting him to warn the characters of impending danger!  Finally, rooster papa suggests she make up a story to tell him instead, and what she creates is an adorable childlike tale of a little chicken putting her rooster papa to bed.
What a cute book!  School Library Journal rightly said this is "one of the rare titles that will entertain both parent and child." So true!  And, we've successfully used this book to talk about interrupting. Little chicken is adorable, but kids can clearly see how disruptive her interrupting is.

Stein used watercolors, crayons, and ink to create the adorable, vivid illustration in this book. He also uses distinctly different looks to help distinguish the scenes in Papa Rooster's storybooks from the scenes in the main story. Very well done!
Awards Won by this book

    * Caldecott  2011 Honor Book
    * American Library Ass. Notable Children's Book 2011
    * New York Public Library 100 Titles for Reading & Sharing
    * CYBIL Award Finalist Children's Book 2011
    * Smithsonian Notable Children's Book 2011
Reading Levels: Interrupting Chicken

Interest Level: PreK-Gr.3          DRA Level: 20                 Lexile Measure: 300L
Grade Equivalent: 1.1               Guided Reading: L    
See Inside this adorable book

Here are two sample spreads from inside Interrupting Chicken. These spreads occur at the beginning of the book, just as Rooster Papa is putting little chicken down to bed.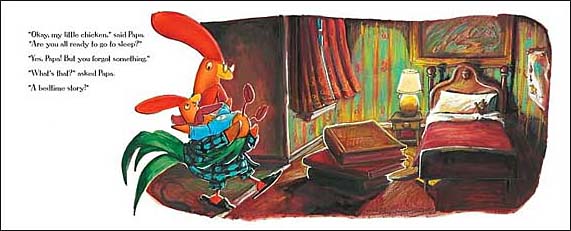 To learn more about this book, click the link below.  Please note that if you purchase an item from Amazon, they give us a small referral fee. (This helps pay for site hosting costs, thus allowing us to keep everything free for site visitors!)


Interrupting Chicken Lesson Ideas

Classroom Management Idea: "Quack"
This is a great book to read at the beginning of the year when you're teaching classroom behaviors. I read this book, then discuss when it's appropriate to talk, the importance of raising your hand, etc. I also tell them that when they interrupt, I will say "quack" to them to remind them that they don't want to be an "interrupting chicken." (The chicken doesn't really quack in the book, but they don't seem to remember that.)  I say it softly, with a straight face--I don't want it to be too harsh but I also don't want to turn it into something fun. It's seems to work...sometimes. :)

Candlewick Press Activity Kit
Candlewick Press's (publisher of this book) has created a fun Interrupting Chicken Activity kit to go with this book. To access it, click here, then click on "Read to Us! StoryHour -- Activity Kit."

---

David Ezra Stein has a gift! His books are both hilarious and sweet at the same time.  And his illustrations...so cute!  Check out David Ezra Stein's books like those listed below. Some are must haves!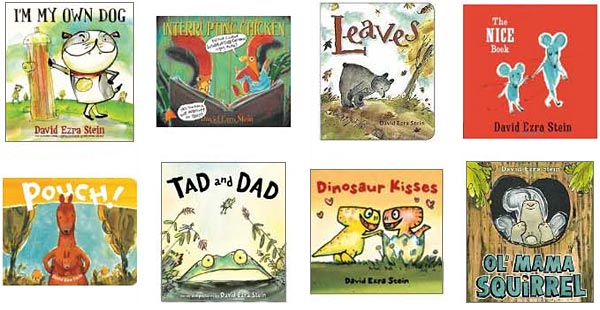 Or...check out our full list of all the Caldecott Award winning books.