I Am the Mummy Heb-Nefert
by Eve Bunting
illustrated by David Christiana

book summary, reading levels,
a peek inside, and more


I Am the Mummy Heb-Nefert

is a beautifully illustrated picture book about the former life of an Egyptian mummy, who narrates the story and recounts her life as the wife of the great pharaoh's brother. Her reminiscences are written in poetry form, and through them, readers learn about:


- Everyday life in ancient Egypt -- through memories of her simple childhood
- The lives of Egyptian royalty (memories of her adult life)
- Egyptian death rituals and the afterlife (from recounting her mummification)
- Modern Egyptian archaeology and artifact preservation
(from her current location as a mummy inside a modern historical museum)

"Bunting uses a poetic, lyrical voice to transport readers beyond the withered mummified remains"

(SLJ)

and David Christiana's watercolors are evocative and atmospheric.
This is a great book to use when teaching a world history unit on ancient Egypt for older elementary or middle school students, as "a good deal of information about ancient Egypt is conveyed through the story."

(Bklst)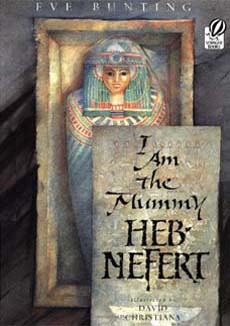 Book Details



Reading Stats

Interest Level: Gr. 4-6

DRA level: not available


Reading Level: age 4-8

Lexile Measure: 670L

Topics Covered
Egyptian life, pyramids, mummies, etc. (World History)
Poetry (Language Arts --Genres)

Awards & Rating
ABA's Pick of the Lists
NCSS Notable Social Studies Children's Book
vg Amazon Customer Rating:

(4 reviews)
Peek Inside
Below are some sample spreads from inside this book. The dramatic, moody artwork make this book more appropriate for (and interesting to) older children and adults. The first sample spread below provides a sample of Bunting's lyrical text. It reads as follows:


"I am the mummy Heb-Nefert, / black as night, / stretched as tight / as leather
on a drum. / My arms are folded / on my hollow chest / where once my live heart
beat. / My ears are holes / that bear no sound. / Once I was the daughter of a
monarch, / favored, beautiful. / But all things change."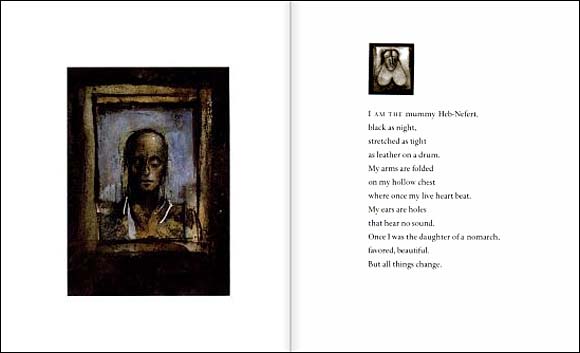 And below are two additional sample pages of Christiana's beautiful watercolor illustrations. When we read the book, the illustrations struck us as having an otherworldly characterstic. Fitting!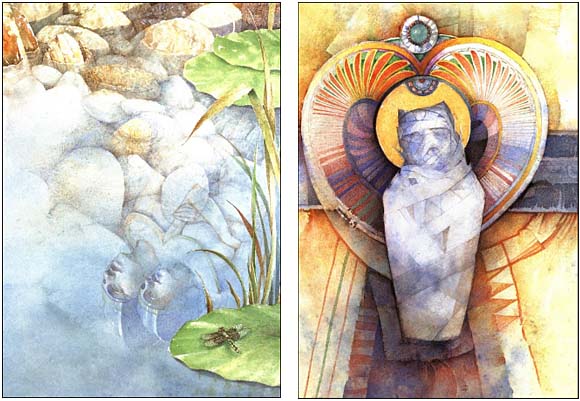 More on this book:

Share this Page:
Click to see the Amazon page
for

I Am the Mummy Heb-Nefert

If you found this helpful, please share
on Facebook, Twitter, Pinterest...


Non-fiction books about Ancient Egypt:

Fiction books about Ancient Egypt: