G is for One Gzonk!
An Alpha-Number-Bet Book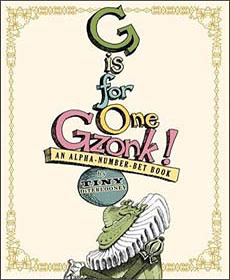 by Tony DiTerlizzi
A most unusual alphabet book. Letters are represented by made up, Seussian creatures and rhymes.  At first, most of the creatures initially seem to have absolutely nothing to do with their respective letters, yet almost all of them do have small, comical characteristics or items that start with the letter in question (for example: the Uggle-Unk is holding a ukulele and is wearing underwear.)

School Library Journal rightly said that this book "a wacky wonder will wow Woos of all ages."  If your kids like books on the wacky side...check this one out.


See Inside
Here are two of the creatures from inside G is for One Gzonk. On the left is the Angry Ack and on the right is the snooping Bloobytack. Each creature/letter is accompanied by a funny, Seussian rhyme. The Bb Bloobytack spread reads: "And grabbing goodies off the floor, the snooping Bloobytack puts every object he can find upon his sticky back. A toy car, a vase, a fork, a watch once owned by me. And, as you know, not one of these begins with letter B.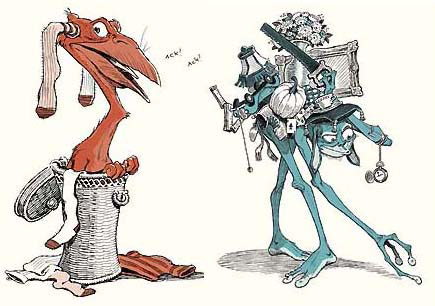 DiTerlizzi also includes little handwritten notations near the illustration, often extending the joke about how this is NOT an ABC book. For instance, an arrow points to the boot on the Bloobytack's back and says "I know what you're thinking, but that's not a BOOT, it's a SHOE. So no B's here."
And here are two complete sample pages. Such crazy, fun creatures. Your kids will love this book!



To learn more about this book, click the link below.  Please note that if you purchase an item from Amazon, they give us a small referral fee. (This helps pay for site hosting costs, thus allowing us to keep everything free for site visitors!)

---