Flotsam

 
by David Wiesner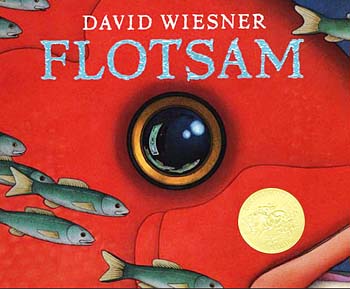 Flotsam is another visual extravaganza from one of our favorite illustrators, David Wiesner. In the story, a young boy at the beach stumbles upon a barnacle-encrusted box camera floating in the water. Intrigued, he runs to a local store to get the film processed, but he's totally unprepared for the mysterious photographs that he gets back---images of an advanced underwater world.
School Library Journal called it "a mind-bending journey of imagination" and they weren't kidding. In vintage Wiesner fashion, the story is intriguingly open-ended and wildly imaginative. Even readers familiar with Wiesner's trademark visual feasts will be awed by these spellbinding watercolor paintings.
And the use of varying perspectives and layouts makes it even more exciting. Read it for fun, or as a fun intro to the mysterious, largely unexplored ocean depths!


Awards Won
     * Caldecott Medal Winner 2007
     * American Library Association Notable Children's Book 2007
     * New York Times Best Illustrated Books of the Year List 2006
     * Parents' Choice Gold Award 2006
     * School Library Journal Best Children's Book List 2006
     * Booklist  Best Children's Book List 2006
     * Publisher's Weekly  Best Children's Book List 2006
     * Kirkus Reviews Best Children's Book List 2006
     * Horn Book Fanfare Selection 2006


Interest Level:    Kindergarten - Grade 4 


Peek Inside
This page shows some of the fantastic, imaginative illustrations inside David Wiesner's Flotsam.  The first illustration below (of the crab) takes place at the beginning of the book, when a curious, science-minded young boy is examining the different sea creatures he finds at the beach. The illustration beside that is one of the photographs that came from inside the magical underwater camera that was found by the boy as he explored the ocean front.



Above and below are more glimpses into the magical undersea world that the boy uncovers via the magical camera. (In fact, you can see the camera falling to the ocean floor in the bottom image.)  These illustrations are fun to look at here, but they are truly captivating when viewed in actual size!


To learn more about this book, click the link below.  Please note that if you purchase an item from Amazon, they give us a small referral fee. (This helps pay for site hosting costs, thus allowing us to keep everything free for site visitors!)

---
You may also want to check out other amazing books by David Wiesner. To learn more, click on the book covers below or the link above.