Egyptology books
proported to by Emily Sands
(but really by Dugald Steer)



* Egyptology * The Egyptology Handbook *
* An Egyptology Code Writing Kit *
Let's start with the indisputable fact that you're going to have a hard time keeping the

Egyptology

books in pristine condition. The magic of these books--the thing that draws kids in and gets them
hooked--is also the thing that drives teachers, parents, and librarians crazy: all those delicate or removable "novelty features." Some adults decide not to purchase these books for this reason. Understandable.

If you do decide to 'take the leap' and get one or more of these books, we can virtually guarantee that your students/children will LOVE them. Most kids have seen at least one of the popular 'Ology' books (Spyology, Pirateology, Monsterology...) and we have yet to see one that didn't totally absorb the reader. It's quite a successful formula they have!
There are three books in this series:


(1) Search for the Tomb of Osiris
:
Designed to resemble the scrapbook of a (fictional) missing archaeologist from the 1920s, this 'ology' title is full to the brim with novelty features like fold-out maps, mini-books, pull-outs, postcards, etc...



(2) The Egyptology Handbook

:

Another journal of the missing archaeologist Miss Sands has been uncovered! Miss Sands wrote this one as an introduction to Egyptology for her nephew and niece. In it, she includes interesting details about ancient history and art, and every page is full of flaps, fold-out sections and other novelties. More educational than the first, but no less appealing!


(3) Egyptology Code Writing Kit
:
Kits like this don't work in a classroom library, of course, but teachers can use it as the foundation for class activities on Egyptian hieroglyphics.
| | | |
| --- | --- | --- |
| | | |
| Avg Rating: (56) | Avg Rating: (11) | Avg Rating: (5) |
| | | |
| --- | --- | --- |
| General Reading Statistics | | Topics Covered |
| Interest Level: Gr 5 & Up | DRA Level: 44 | ancient Egypt (World History) |
| Reading Level: age 9-12 | Lexile Measure: 1180L | archaeology (World History) |
Peek Inside
Below is a sample spread from the first book,
Egyptology
. All the spreads in the book employ this fun, scrapbook format. (What you can't tell from our small version here is that this spread includes a fake papyrus illustration held on to the bottom left of the page via some string.)


Here is a spread from the second book,

The Egyptology Handbook.

You can tell from this spread that there's more of an educational focus to this book, while still retaining the scrapbook format, interesting writing, and novelty items. Kids won't even realize how much they're learning!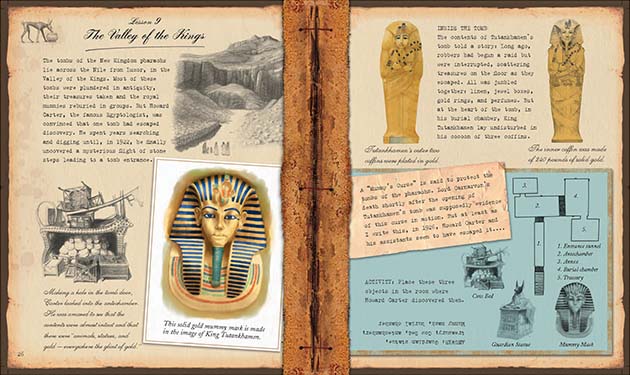 And lastly, here are a few other spreads, shown from a side angle to show the novelty components.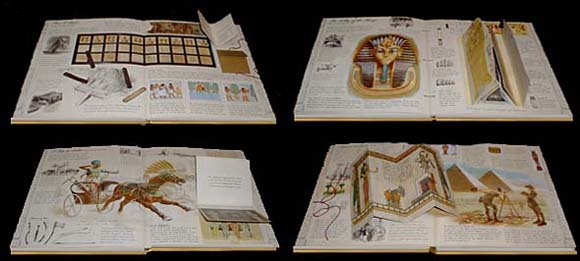 Of course, these small pictures won't do. You have to see the book in actual size so you can clearly see all the details, read the little interesting sidebars, navigate all the novelty items, etc. Hopefully we have given you an idea of what to expect in the Egyptology books.
More on this book:

Share this Page:

Click to see

Egyptology books


on the Amazon.com website
If you found this helpful, please share
on Facebook, Twitter, Pinterest...


Non-fiction books about Ancient Egypt:

Fiction books about Ancient Egypt:
recommend
If you found this site useful, please:

subscribe
Sign up for our

Email
Newsletter


to get monthly updates on
our latest book finds.
suggestions
To suggest a book
we should add,
click here