Earth Day Hooray!
by Stuart Murphy
illustrated by Renee Andriani

lesson ideas, a peek inside, etc
Earth Day Hooray!

is Murphy's latest MathStart title, this one aimed at teaching place value and recycling. In the story, an elementary school's 'Save the Planet Club' wants to earn money to buy flowers for the local park, so the students decide to gather aluminum cans that they can turn in for coins. If they gather 5,000 cans, they will have enough to money to buy the flowers, but keeping track of the daily totals proves very difficult. Finally, when start sorting the cans in bags of 10, 100, and so on, the task becomes much easier.

Renee Andriani's illustrations are both adorable and informative, adding clarity to the text and the math concepts covered.
In their review,

Booklist

suggests this title for "jazzing up a routine math lesson or...Earth Day activities." We agree!



Teachers



Murphy includes a section at the end of the book with suggested discussion points as well as extension activities for classroom use.
Additionally, we have started a list of ideas and activities
to extend the learning when teaching with this book. To see the list, click:
Earth Day Hooray!

lessons
. And if you know of a related idea, please let us know.
Reading Stats
Interest Level: Gr. 1-4 DRA Level: n/a
Reading Level: age 4-8 Lexile Measure: n/a



Topics Covered


place value (math) recycling / environment



Awards & Rating




Avg Customer Rating:

(2 reviews)


Peek Inside
Below are interior pages from inside this book. The first page is included to show how this book uses an aluminum can drive to teach place value and the second spread is included here to give you an idea of the illustration style and amount of text on the pages.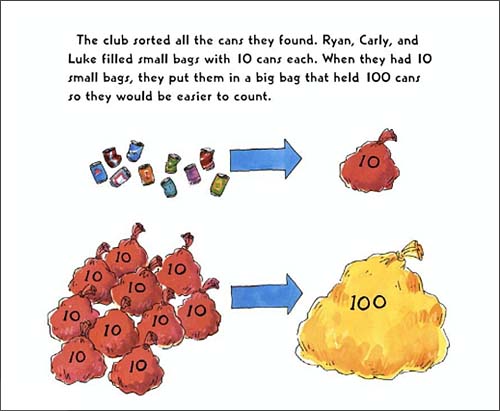 Remember, this book isn't only about math; it's also about recycling and caring for the environment. The children in this book provide great examples for childre, demonstrating how a small group of people--even kids--can make a difference for the planet and in their local neighborhood.




More on this book:

Share this Page:
Click for Amazon.com's page
on

Earth Day, Hooray!

If you found this helpful, please share
on Facebook, Twitter, Pinterest...


See other number sense books:

See booklists for all math topics: