Cut Down to Size at High Noon:
A Math Adventure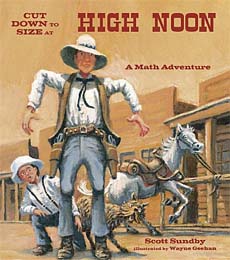 By Scott Sundby & Wayne Geehan
Set in the Old West in the fiction town of Cowlick, this fun book by Scott Sundby and Wayne Geehan tells the story of a big scale drawing showdown (with scissors instead of guns!) between tough- talking newcomer Buzzsaw Bart and the town's much loved barber. The goal of the showdown? To create the most magnificent hairdo. 

While this may seem like a silly premise, it definitely works! Your students will be eager to see each newly scaled creation. Read this title at the start of a hands-on activity on scaling, and you will have a class of motivated workers!

Reading Levels
Interest Level: Grade 3-8         DRA Level:  40                  Lexile Measure:  800L
Grade Equivalent:  4.4             Guided Reading:  Q 


See Inside
Sample spreads from inside this book:


To learn more about this book, click the link below.  Please note that if you purchase an item from Amazon, they give us a small referral fee. (This helps pay for site hosting costs, thus allowing us to keep everything free for site visitors!)

---
There are lots more books illustrated by Wayne Geehan. Kids think they are fun and we think they are such great teaching aids!  To learn more about his math-themed picture books, click the images below or the link above.